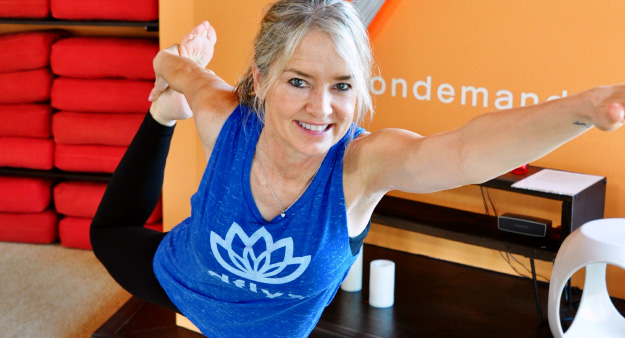 How did you get started at Dfly?
I relocated to Madison in 2017. Shortly after moving here I ran into a friend who was a Dragonfly member and she encouraged me to try it out. About two weeks after seeing her I received a Dragonfly gift card in the mail from her. I decided to try out some classes and I was immediately hooked. I felt so amazing after each class. Needless to say I became a member and am so happy to have Dragonfly as part of my life.
What was your yoga or barre experience before Dfly?
Prior to Dragonfly I had some experience with yoga but nothing consistent. I had never tried hot yoga.
What do you enjoy most from attending Dfly classes?
I enjoy so many things about Dragonfly. I love the heated room, amazing instructors and the scented washcloths that are provided after each class. I still remember my very first hot yoga class and sweating profusely afterwards. But then I noticed the scented washcloth and it made the entire workout worth it!
Have you experienced any changes in your total well-being since taking classes?
I have noticed improvements in my flexibility, strength and body tone. I feel better from head to toe after every class and my sleep has improved.
How often do you attend classes? Favorite class?
I try to attend at least 3 to 4 classes per week. My favorite classes are Fascia Yoga and Power Up. Fascia yoga has helped me release a lot of tension that I hold in my body. In addition, I feel like I have had a deep tissue massage.
Please feel free to share any other thoughts you have about Dfly, hot yoga, or your life as we would love to know more about you?
I can't begin to express how much Dragonfly has helped me in my day to day life. The people combined with the environment create such an inspiring place.