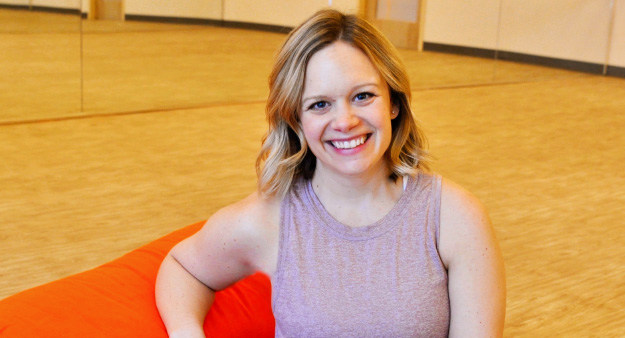 I started at Dragonfly in the summer of 2016 when my middle daughter was 8 months old. I was looking for something to enhance my mental and physical wellness after having a second baby. I was immediately hooked and have taken classes through my third pregnancy and after.
Before Dragonfly I did some at home prenatal yoga videos, but that was it. Dragonfly was the real beginning to my yoga practice.
I love that I can leave Dragonfly feeling energized, more mental clarity, and a true feeling of having gotten a great workout all at the same time. Every time I walk through the door I feel welcomed and accepted for just the way I am. It feels like a true escape for me. I love the instructors, the atmosphere, and that every class is different!
Since taking Dragonfly classes I am more confident with my body in the shape and state that it is in in any given moment. I have noticed a deeper sense of gratitude towards myself and others. I have more patience, both with myself and my kids. I feel stronger physically and more importantly it has helped me manage my anxiety and be stronger mentally and emotionally.
I usually attend 1-2 classes per week and absolutely love a good 60 minute flow, it's just what I need!
I am so grateful for Dragonfly and how it has enhanced and improved my life, physically and mentally. It gives me time back for myself that I was not always great at prioritizing and I look forward to always progressing on my yoga journey.