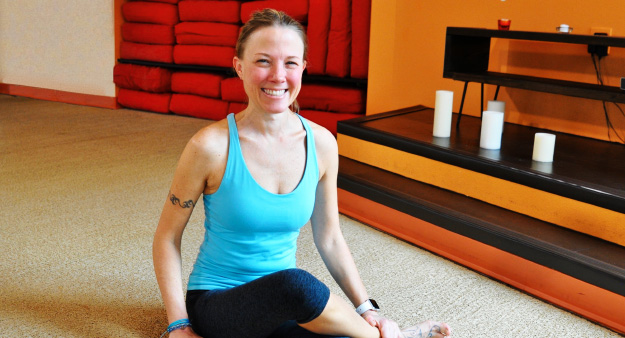 How did you get started at Dfly?
I had mentioned a couple of times that I was interested in trying yoga so last Mother's Day my kids got me a one month membership at Dfly! I was hooked pretty much immediately and tried out a bunch of different classes during that first month. As soon as my trial membership expired I immediately signed up for another 6 months, which I just renewed last month.
What was your yoga or barre experience before Dfly? What do you enjoy most from attending Dfly classes?
None—I was a newbie!
I enjoy the physical challenge, but I also really love the sense of community. I tend to take the same classes every week and have gotten to know several of my fellow yogis as well as the instructors and staff. The studio is such a warm (no pun intended!) and welcoming environment, and everyone is so friendly and encouraging. Just walking in the door makes me happy!
Have you experienced any changes in your total well-being since taking classes? How often do you attend classes? Favorite class?
I can honestly say that I have. Physically I am the strongest I have ever been. Mentally I feel more grounded and focused. I attend 5-6 classes every week. I'm not sure I can pick a favorite! I can say that Suki's Saturday morning 60 minute Flow followed by Carrie's 60 minute Yin is a wonderful combination—both are physically challenging and mentally grounding in their own ways. I also really look forward to Brenda's 75 minute Flow class on Sunday mornings. She challenges us but also really encourages us to listen to our bodies and make the practice our own. I've also attended several workshops which were all great!
Please feel free to share any other thoughts you have about Dfly, hot yoga, or your life as we would love to know more about you.
I feel so lucky to have found Dfly. I truly feel like part of a friendly, supportive community. I am looking forward to continuing to learn from the awesome Dfly instructors and my fellow yogis!
Instructor Suki Warda: "It is wonderful having Amber as a Dragonfly member! From her very first class I noticed she radiated joy and kindness. Amber is sincere and has an openness to learn. This dedication reflects in her consistent practice. It is with gratitude an honor to have Amber as part of our Dragonfly community!"