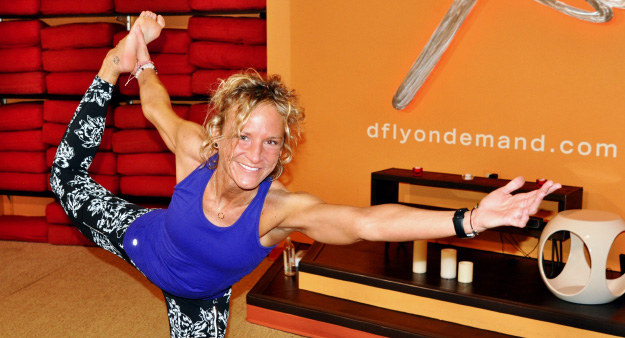 How did you get started at Dfly?/ What was your yoga or barre experience before Dfly?
I am originally from Grand Rapids, MI and moved to Madison in the Fall of 2018. When I first moved here, I searched out and attended most (if not all) of the yoga studios Madison had to offer. It wasn't until I realized the community and the diversity in classes that Dragonfly had to offer when I made the decision to make Dragonfly my yoga home. I attended my first hot yoga class back in 2012 when a coworker invited me to attend with her. I immediately fell in love with how it made me feel, both physically and mentally. I've been doing hot yoga ever since.
What do you enjoy most from attending Dfly classes?
Dragonfly has provided a home away from home when it comes to my yoga practice. I love the constant encouragement and welcoming attitude from the instructors and staff. I love having conversations about yoga as well as life outside of the studio. Some of the staff at Dragonfly have become instrumental in my life (whether they know it or not). I also love the community. I have met some amazing people who practice right beside me. It's an atmosphere you can't get by just going to the gym.
Have you experienced any changes in your total well-being since taking classes?
Initially I fell in love with the physical aspect of yoga; but step-by-step I became more aware of my body, and later my mind. I realized over time how much it was not only helping my physical health, but, more importantly, my mental wellbeing. Yoga has allowed me to find an "inner me" that I never knew existed. I was able to start to connect myself, my feelings, my emotions, my thoughts, my energy, and gradually, I learned how to achieve my inner peace (especially while on my mat).
How often do you attend classes? Favorite class?
I was attending classes about 3-4 times a week. However, after the summer challenge this past Summer, I realized how important yoga is in my life and I now practice 6-7 times a week. My favorite class? That's a tough question. I love the challenge of the Power/Yoga Up classes but also enjoy the slower pace of a slow flow. I love them all!
Please feel free to share any other thoughts you have about Dfly, hot yoga, or your life as we would love to know more about you.
I am an analytical scientist by trade and have worked in the pharmaceutical industry for most of myadult life. Not until a couple years ago, and my most recent yoga retreat to Costa Rica, did I realize I wanted to incorporate yoga and all that it has taught me about life into my everyday life. I have wanted to expand my knowledge and practice by doing a 200-hr teacher training, but life just hasn't allowed me to…..YET. It is still a very big goal of mine! I want to share what yoga (and dragonfly) has provided me with; the tools to get through life no matter what difficulty I may be faced with. Breath by breath, asana by asana, my outlook on life has changed.
Instructor Kyle Anderson: "Jen is such an awesome human. She is genuine, charming, funny, and a great member of the community— even with those who take her spot. 😉 Prior to becoming a teacher I practiced alongside Jen, and have always looked up to her dedication and strong, graceful practice. I feel fortunate and inspired by Jen's continued presence in the classes I instruct. You rock Roosien!"