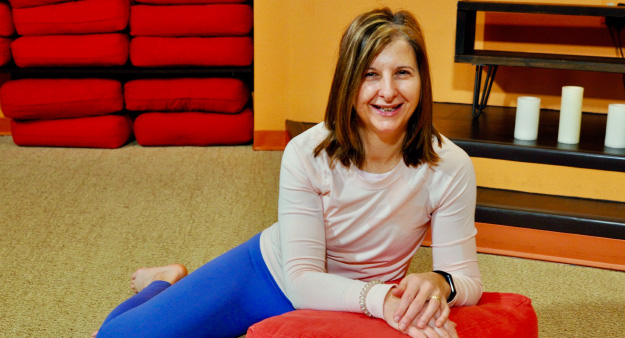 How did you get started at Dfly?
I drove by the Junction Rd. studio and decided to stop in and check it out.
What is/was your yoga/barreamped experience before Dfly?
Yoga DVDs but no Barre experience.
What do you enjoy most from attending Dfly classes?
Love the instructors and front desk staff. Everyone is welcoming. Instructors make everyone feel welcome and offer modifications for different levels.
Have you experienced any changes in your total well-being since taking classes?
I'm more flexible, and always appreciate going to class and shutting down for 45-60 minutes.
How often do you attend classes? Favorite class?
4-5 times/week; love flow, yin, and barre classes.
Please feel free to share any other thoughts you have about Dfly, hot yoga, or your life as we would love to know more about you.
Love Dragonfly's focus on small local businesses and creating workshops that incorporate other businesses.
Instructor Brenda Autz: "Rhonda is so deserving of this recognition! She participates in a wide variety of classes including Cardio Barre, Core/Power Flows, Yin and Slow Flow. There are days when she takes a combination of classes to balance out her practice. Rhonda is a strong yogi who exudes a calm and kind demeanor. It's always a joy to see Rhonda at the studio. We are fortunate she is a part of our Dragonfly community."