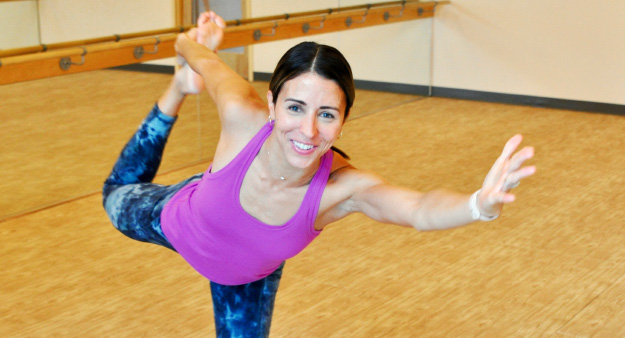 How did you get started at Dfly?
I wish I would have joined sooner! I had thought about trying out Dragonfly for years. I finally did the intro month and met a friend there for my first class. I've been hooked since!
What was your yoga/barre experience before Dfly?
I had done a little yoga and tried a couple barre classes, but nothing I loved nearly as much!
What do you enjoy most from attending Dfly classes?
As someone who's always cold, I love the heat element! I feel like all of the classes are so wonderful, there aren't any bad instructors! Also, the cool essential oil infused towels at the end are SUCH a delight.
Have you experienced any changes in your total well-being since taking classes?
Absolutely! Yoga especially makes me feel so much more centered and balanced. I think it's so important to take that uninterrupted time for yourself for your health, and just a break from all the noise. As a stay at home mom of 5, my whole family benefits from my Dragonfly workouts.
How often do you attend classes?
I try to make it every day, maybe 6 days, sometimes twice for a barre and yoga.
Favorite class?
That's a tough question! I feel like it goes in waves, depends on what I need, I just crave yoga often times, flow or core flow. I also really love barre and yoga up.
Please feel free to share any other thoughts you have about Dfly, hot yoga, or your life as we would love to know more about you.
I really love coming to Dragonfly! Some workouts can be a drag. I used to think I needed to do all this cardio or heavy weights to feel like I got a great workout in, and often times I'd dread going. I feel like going to Dragonfly is such a treat for me and my body! I look forward to going and feel great every time I leave!
Instructor Chanelle Oeding: "Cari is a power-house in class! I have enjoyed watching Cari challenge herself and build strength in core flow; usually taking her practice up a notch by adding more core moves and extra chaturanga pushups! Outside of Cari's commitment to her flow practice, you can find her attending Yoga Up and Cardio Barre. It's a true pleasure to keep seeing her in my classes week after week as well as practicing along side her in Audrey and Shawns' classes!"