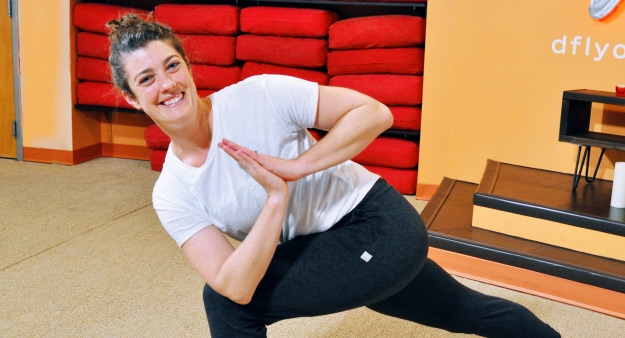 How did you get started at Dfly?
I started buying class passes and would occasionally attend with my little workout buddies to vary our workouts. Flow was such a wonderful, different way to build strength that complemented our cardio and strength routines! And once we tried Yoga Up? We were totally hooked.
What was your yoga or barre experience before Dfly?
I was familiar with yoga and had taken occasional classes throughout the years, but I loved Dragonfly's focus on breath, movement and self-acceptance. Oh, and the heat. I love how the heat can help this creaky body get movin' without as much risk of injury!
What do you enjoy most from attending Dfly classes?
I'm the type of person who needs my daily workouts as self-care — sure, the physical benefits are great, but it's my mental health that really needs these sweat sessions. If I can break from my busy day and give myself 60 minutes to forget about my stress, lists, schedules and to-do's, I'll be a much happier person. (And it's usually pretty easy, because the only thing I can concentrate on during class is… oxygen! Ha!)
Have you experienced any changes in your total well-being since taking classes?
Yes, 100%. During the pandemic, I had gotten in the habit of working out at home. Although that was a great time-saver, I had definitely gotten into a workout rut. Getting out of the house, trying new things in class — now I have a little 'me time' to look forward to each day.
How often do you attend classes? Favorite class?
My goal is to attend 4-5 classes each week. Anything with an 'up' — Yoga Up, Power Up, Circuit Up… sign ME up! I can't get enough.
Please feel free to share any other thoughts you have about Dfly, hot yoga, or your life as we would love to know more about you.
I'm a wife, mom, and dog mom. Spending time with my family is the way I refuel. Come say hi if you see me on my mat!
Instructor Carly Schneider: "Blair is so deserving of YOM. She is a dedicated yogi, making time in a busy schedule to roll out her mat whenever she can, leaving everything on that mat every time. It's a pleasure both having her in class and practicing alongside in those Circuit Ups. Congratulations Blair!"