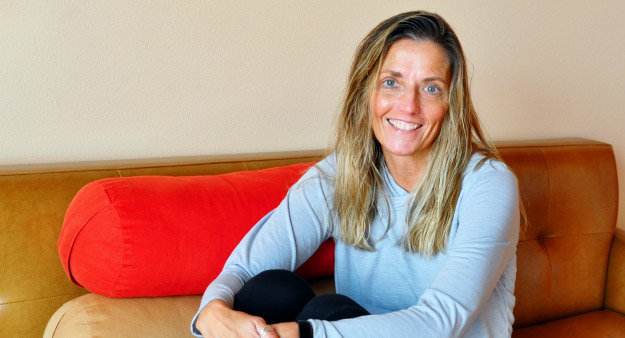 How did you get started at Dfly?
I have lived with back and neck pain for years from daily computer work and poor posture. Then about a year ago I had to have a heart valve repaired and the sternotomy left me with more upper body muscle tightness and pain so I decided to try massage therapy for some relief. My massage therapist recommended hot yoga as she thought it would help as well. I tried to resist her suggestion, but after she strongly recommended it a second time, I decided to give it a try.
What was your yoga/barre experience before Dfly? What do you enjoy most from attending Dfly classes?
I had absolutely no experience with yoga prior to this. In fact, this is the first time in over 30 years I've actually attended group exercise classes as in general it is not something I am comfortable with. I've always been one to exercise on my own at home. The heat! Don't get me wrong, everyone here is very welcoming and friendly and the teachers are great, but I am pretty sure without the heat it wouldn't be the same for me. The heat really allows me to relax and move a little easier.
Have you experienced any changes in your total well-being since taking classes?
Overall, I have less upper body pain from stretching my muscles regularly and building my strength and flexibility. Having the opportunity with some of the classes to find mindfulness and let go of the daily stress and anxiety that life brings has helped me a lot.
How often do you attend classes? Favorite class?
I usually attend seven classes a week and wish there was time for more. I take a variety of classes including yoga-up, power-up, barre, flow, slow flow, and yin. It would be difficult to pick one favorite class as I enjoy them all and feel all the instructors here at Dragonfly are great. I love the variety of classes offered as it allows me to have a well-balanced exercise routine. However, I guess my favorite would be Shawn's Yin class as it brings my body and mind the total relaxation it needs.
Please feel free to share any other thoughts you have about Dfly, hot yoga, or your life as we would love to know more about you.
I'm still getting used to the empty nest syndrome and realizing one positive of it is that I finally have the time for myself that I didn't have while the kids were young and at home. Although starting classes at Dragonfly definitely took me out of my comfort zone and most classes I still keep to myself, I'm thankful to have found this community and the great physical and mental benefits it has brought me.
Instructor Belle Karls: "Michelle is incredibly committed to her fitness and yoga journey here at Dragonfly. She has tried nearly every class we offer – sometimes even going to multiple classes in the same day! It's been a joy to see her in my barre class each week and I hope to see her in many more to come."