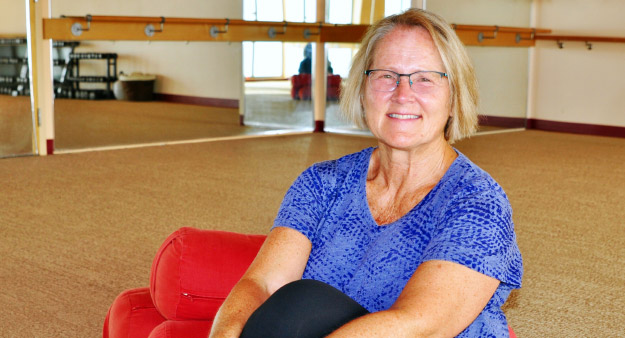 I had wanted to try yoga, but didn't know where to start. A friend and co-worker encouraged me to try the introductory month offer at Dragonfly. What a blessing it's turned out to be!
I had no previous yoga experience, but I belong to a gym and would work out with cardio and free weights.
I look forward to walking into the hot room, setting aside the days "to do list", finding an inner connection and challenging myself.
The practice of Yoga makes me feel better, both mentally and physically. I'm proud of carving out time for me. I have noticed the biggest change in how my joints feel. When I leave class I feel mentally calm and physically strong. It was a bit intimidating at first; I wasn't expecting the strength and flexibility needed. Yet, each instructor meets you where you are, encouraging my individual practice and offers options for poses when "I'm not quite there yet."
I love my yoga experience at Dragonfly. That first month I tried almost every class offered. I've settled into my favorite classes, Yoga up with Shawn and Miranda, Flow, Core Flow, but I recently tried a Barre class, which was new for me. Each class offers a different challenge. I try attending 2 classes a week. I wish it could be more.
This quote sums up Yoga for me – "It's not about being good at something- It's about being good to yourself."
Instructor Meranda Masse: "Patricia brings so much happy energy into her classes! Before and after class I always see her chatting wither other dflyers, taking the opportunity to catch up and ask about how they're doing. During class she pushes through, and never lets what we're doing for the day defeat her! I'm so happy that Patricia is our yogi of the month 😀"