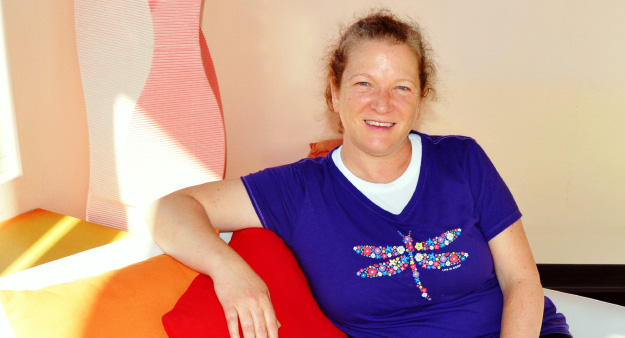 I had wanted to start going to Dragonfly for years, but my schedule was so chaotic, I wouldn't have been able to start a regular practice. When my schedule finally stabilized, I joined.
When I lived in California, I did a similar barre class called the Dailey Method for a couple of years and also did Bikram yoga. My practice fizzled when I moved back to Wisconsin.
I enjoy the variety of classes offered. I also like how different instructors approach the same class with their own unique style. My strength, balance and flexibility have definitely improved since I started back in February. I attend at least three classes every week. My favorite classes are Lindsey's Cardio Barre and Brenda's Flow 75.
Taking classes at Dragonfly is probably my favorite activity I do every week. I have a pretty stressful job working as a psychologist in a prison, so practicing self-care is important and Dragonfly helps me to do that.
Instructor Lindsay Loeffler: "Heather is a powerhouse! She started as a beginner barrefly and has quickly become a staple in our cardio barre classes. She has worked to build strength and is constantly improving. She's even grabbing those heavier weights! She inspires and pushes those around her. I love having her in class every week!"