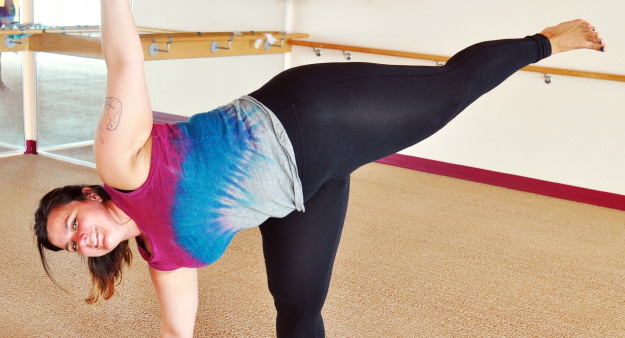 I discovered Dragonfly in December of 2011. I had just moved from Florida and the Wisconsin winter is cold! I had never tried yoga, but the promise of hot lured me in.
Over the past decade Dragonfly has been there for me through many stages of life. 99 days of summer, 30 day challenges, prenatal yoga, postpartum recovery (3 times!), mindfulness, and strength training – there is always something to love.
At this stage, I usually make it to class two or three times a week. My favorite combo is a flow followed by yin in a 1, 2 punch. I have seen both my physical strength and mental well-being grow by leaps and bounds over the years.
Yoga gives me confidence in my body in a way that nothing else ever has. While the classes bring joy to my life, it is truly the accepting, encouraging, and fun community atmosphere that keeps me coming back year after year.
Instructor Kelly Perna: "Katrina is truly an inspiration! Her commitment to showing up on her mat is real. Katrina values the benefits of yoga like strength and flexibility but it's her awareness of the deeper benefits like mental and emotional health that drew me to her. Thank you, Katrina, for being such a bright light in the Dfly family!"