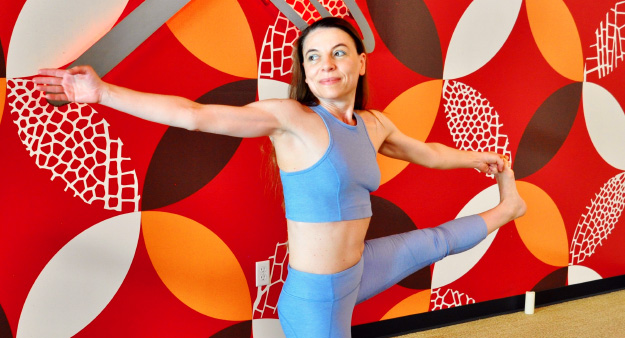 How did you get started at Dfly?
I was introduced to hot yoga about 6 years ago. I did not know much about yoga at that time, but heat and movement seemed like a natural approach to treating a chronic myofascial pain syndrome affecting me for long time.
What was your yoga/BarreAmped experience before Dfly?
My first yoga class was right here at Dragonfly, and Dfly has remained my favorite oasis of yoga practice, heat, music, and detachment. For a while I enhanced with additional Fire/Bikram classes since high heat and the physically challenging postures are tremendous in making the muscle more pliant and helping with the pain. In time I started exploring the super-diverse, smart, and expertly taught Vinyasa classes at Dfly, and never looked back. DFly has the best instructors and variety of classes, the best sun-lit facilities and music, the most welcoming mission to tend to all ages, all shapes and sizes, to those new to yoga or experienced.
What do you enjoy most from attending Dfly classes?
I like coming back to the mat and being surprised with each and single session, whether is the set of postures chosen by the instructor, the music, the inspiration I find in others, or the renewed strength I find in myself.
Have you experienced any changes in your total well-being since taking classes?
Yoga with DFly has been essential in my well-being since the day I started: increased mind and body strength, balance, resilience, and flexibility, management of the chronic myofascial pain, osteoporosis prevention – which is very important for women, and an essential companion throughout the pandemic (whether in person or on Demand) I am grateful to be part of the community and I am thankful for all the attention and care we receive from the instructors and staff. I admire every one of them, especially since most have other careers, studies, and families, and they still give us 100% of their energy and passion no matter if is morning or night, weekends or holidays, and I could not be more grateful.
How often do you attend classes? Favorite class?
For the best part of first 5 years I attended about twice a week. Now, the average is 3 times a week and as often as I can! Even twice a day, if my schedule allows it. Favorite classes? The Fusion class with Kelly Perna, the core classes with Tiffanie, Cassie, and Laura, and the powerfully choreographed flow classes with John Harmon have built and fueled my practice throughout these past 6 years. I could not be more fortunate and honored for being able to learn and train with them. From time to time I try a new instructor and class here at DFly, and I have always been delighted and pleasantly surprised when I tried something new. Also, I recently discovered Yoga Up with Laura, a long-feared class for me which I avoided for ages. For the last few months, Laura's passion, energy, amazing routine, and emboldening music has been calling me back on my mat for Yoga Up, any time I get a chance! I also see that we have a new class Fascia Yoga, and I cannot wait to try it! As I am learning to appreciate the restorative yoga postures more and I pay more attention to the transition postures and details, I feel there is tremendous room for growth, to keep me engaged and challenged for long time to come.
Please feel free to share any other thoughts you have about Dfly, hot yoga, or your life as we would love to know more about you.
I love my time on the mat when I allow myself to be swept by music and the flow of the practice, and I love it even more when my partner can join me for a an occasional session. The way he takes in the entire practice and the flow inspires me and keeps me grounded. I really hope our children will also join us some days. In general, I love seeing families and couples practicing together. Thank you DFly and Happy June!