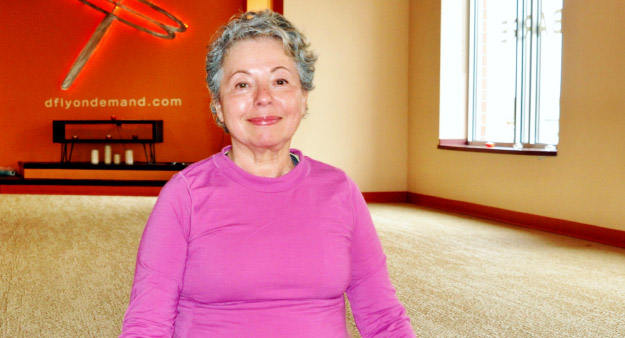 How did you get started at Dfly?
I moved back to Wisconsin last September and wanted to continue my journey of mind and body balance. I searched for the yoga studio with the best reviews. Ta-Da! DFLY was the first one listed on all searches
What was your yoga/barreamped experience before Dfly?
As an adult, I have lived in different cities/countries and yoga has been my common thread. Since 2011, hot yoga and bikram have been my preferred practices.
What do you enjoy most from attending Dfly classes?
I enjoy the encouragement from the instructors, the friendly greetings as I arrive, the blend of mindfulness and physical strength.
Have you experienced any changes in your total well-being since taking classes?
Absolutely! My days are more focused after a morning class and my nights are more settled after an evening class.
How often do you attend classes? Favorite class?
I usually attend 4 times per week. My favorite class is Anna Lindstrom's Flow 45. I love how Anna incorporate mindfulness, breath of fire (the "Shoosh" :)), strength and her personal experiences.
Please feel free to share any other thoughts you have about Dfly, hot yoga, or your life as we would love to know more about you.
I am 68 years young. Yoga practice is my way of honoring my body, my mind and my goals. Seeing the improvement I make from month to month is a truly rewarding experience. My mother started practicing yoga when she was in her 40's and she lived to the young age of 104! I strive to pick up what she left on the mat and in my heart.
Instructor Anna Lindstrom: "Nilda is an inspiration and embodies everything in the Dragonfly credo. She is dedicated to her practice, brings energy and curiosity to her mat, and listens to the body she is in that day. It is such a pleasure to have her class, and I am honored to be a little tiny part of her journey. Congratulations, Nilda!"