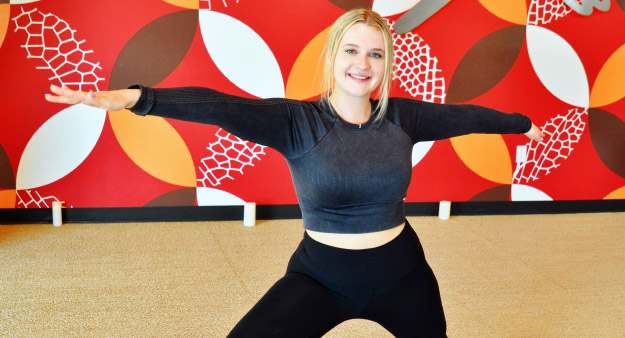 I got started going to Dragonfly while I was in undergrad. College was a huge change mentally and physically and finding Dragonfly was a huge help to both!
Prior to coming to Dragonfly I had never done hot yoga or Barre! I'd done yoga classes here and there and had done dance/poms all through my high school years so I decided to give it a shot and absolutely loved it! It was the perfect fit for someone who doesn't necessarily like going to the gym but still wants to feel good mentally and physically.
The thing I enjoy most about Dfly classes is mental space I'm able to be in while I'm in the studio. The atmosphere, the instructors, and the classes really allow me to leave everything at the door and solely focus on my practice and my intention for the day. And of course the cool cloths at the end!
Hot yoga has helped my well being on so many levels. Being able to incorporate yoga into my weeks has helped my mental health drastically. I started working night shift as a nurse this past year which can take a toll on you mentally and physically and continuing to utilize Dfly practices has helped keep some normalcy in my day-to-day life :)
I always try to go to classes at least twice a week and three times a week when my work schedule allows it. Lately I've been been loving the afternoon week day flow classes where we get to try new flow series and poses! Prior to and during COVID I liked attending the Barre classes and practicing them at home on Dfly on Demand.
COVID really made me grateful for our Dfly studio. Doing yoga at home just wasn't the same and since lockdown I have been so much more invested in getting out and going to yoga every week. So grateful for everyone at the studio who kept Dfly afloat during those tough times and helped keep yoga incorporated in our lives!