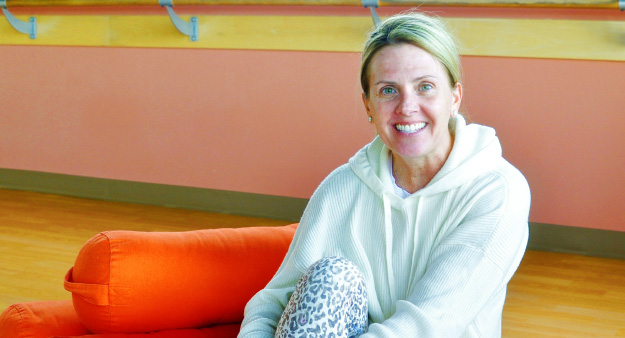 My story begins as most fairytales do… Once upon a time a middle aged woman wandered in off the mean streets of Sun Prairie on January 30, 2018 and signed up for a membership having no history or expectations of what yoga actually was or the impact it would have on my life. I had been working with a personal trainer for several years but he had decided to take a new career path which essentially forced me into trying something new. I run daily, but have always supplemented that task with something else and I figured I would give Dragonfly a whirl. As simple as it sounds I was driving on Grand Avenue and saw the sign. Yoga was totally out of my comfort zone as I always associated people who practice yoga as calm, spiritual, kind, flexible and mindful of others. None of those things describe me. I'm loud, unfocused, selfish and extremely non bendy. (My mantra is I've got the flexibility and mouth of a trucker.) That faithful January night Pete was at the front desk and without his kindness I may have turned around and exited the building as quickly as I had entered. What sealed the deal for me was Pete basically guaranteed that yoga would make me a better runner and help with the knee pain I had begun to experience. Sign me up! In the beginning I was very fortunate and thankful to have practiced with the likes of Bekah, Anna, Beth and Sam. (and countless others along the way.) That top tier talent helped build a foundation and gave me the tools to keep growing in my practice. For the next two years I was consistently taking Flow and Barre classes 4 to 5 days a week and things were good in my world.
And then COVID hit… everything went to sh*t in a shopping cart. It seemed all aspects of my life had to be reinvented. I'm not certain of many things but I can tell you that familiarity, continuity and accountability is what gives me comfort. My mat is in the same spot each class, my girl Eden is right next to me and Paul on the other side. (Whether he wants to be part of my posse or not. LOL) and signing up for the classes in advance keeps me in check. The simple things I look forward to is knowing that Dani (my little yoga Goddess) will talk to me in her soothing voice on Tuesday nights and it somehow calms my tortured soul or how I'm convinced my Queen Nicole is trying to break me both mentally and physically during Yoga Up simply for her own enjoyment (Oddly enough hearing her laugh melts away the pain and suffering). None of this Utopia existed during COVID and I was a bit lost to say the least with no daily routine. I know Dfly tried to adapt and adjust best they could by implementing online classes but I couldn't do it and slowly my body began to suffer. I always felt out of alignment as though things just weren't in the right spot. After I would complete my runs I was extremely sore. It was even getting tough just walking up the stairs. My mind wouldn't quiet… the list could go on and on. Flash forward two years and FINALLY things started to look up at the beginning of January. It was time to re-enter society as everything was falling into place. The vaccine was coursing through my veins, the mask mandate was lifted and my membership to Dfly was back up and running. I'm just shy of my 400th class and truth be told it's just as hard today as it was on the first day of my yoga journey back in 2018. This yoga stuff is tough and it's work and a lot of days it's not something I particularly enjoy if I'm being honest, but I know in order to stay balanced and to feel good I have to keep doing it. I kid you not, the best part of my day is when I hear the words "there is no more work to be done. Savasana." Sprinkles on the cupcake is the cool scented towel for sure and makes the anguish I just experienced for the previous hour all the worthwhile. TOWELS. MANDATORY. Enough said.
In Summary…..
I'm flawed and have an abundance of imperfections.
Honesty is my super power.
I try really hard to be kind, but sometimes it just doesn't land.
The Dragonfly family has been so gracious and accepting of me and for that I am very appreciative.
I'm blessed.