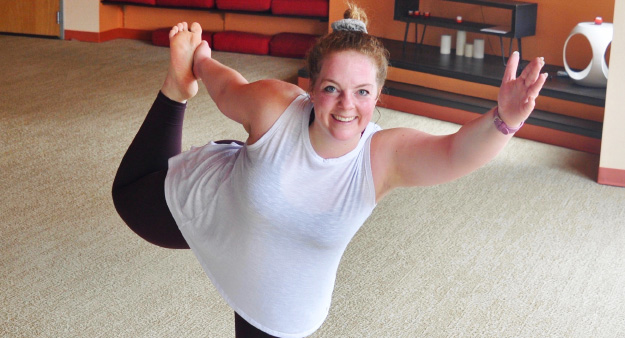 How did you get started at Dfly? What was your yoga/barreamped experience before Dfly?
I started Dfly in 2018 when a co-worker of mine introduced me, and as they say… the rest is history! I had absolutely no experience with yoga before that first class in 2018.
What do you enjoy most from attending Dfly classes?
There are so many amazing things about Dfly! What I enjoy most is the supportive, kind, and passionate community. Right when I walk in the door, I immediately feel the loving and passionate energy of the people and the space. I love the many physical, mental, emotional, and spiritual benefits I've felt since that first day. The teachers are knowledgeable, kind, dedicated, and genuine. They've taught me a very important life lesson, which I'm still learning to this day – Yoga is about more than moving your body in this shape versus that shape – it's about becoming fully embodied & taking that knowledge with you out into the world so we can be our absolute best selves.
Have you experienced any changes in your total well-being since taking classes?
Yoga has completely changed my life. Because of Dragonfly, I am now a certified yoga teacher! Being a yoga teacher means a lot to me, and I wouldn't have ever thought about it if it wasn't for my experiences at Dragonfly. I utilize yoga every single day of my life both mentally and physically. Yoga brought me to my dream job. Yoga has taught me to be calm amidst chaos. Yoga helps me create mental clarity daily. Yoga has taught me much about my body. Yoga has taught me many life lessons that I utilize every day. Yoga has improved my flexibility, balance, strength, endurance, and so much more. Yoga has taught me mindfulness, how to breathe through hard things/times, how to stay present, how to let go, how to handle stress, frustration, self-doubt, and many emotions we all experience daily. Yoga has reduced physical symptoms bringing me anger and frustration, such as inflammation. Yoga has improved my sleep. Yoga has improved my self-esteem, self-compassion, and self-love. Yoga has improved my posture.
There are so many amazing benefits – I have changed for the better because of yoga! I take class 4-5 times a week, at least! I love Suki's 7:00 AM flow and Anna's 9:00 AM flow. However, I find amazing things within every class I take at Dragonfly.
Please feel free to share any other thoughts you have about Dfly, hot yoga, or your life as we would love to know more about you.
A little about me: I live in Verona with my boyfriend and our cat & dog. I am the youngest of 3 – I have a twin brother. I am musically talented. I love going for walks. I really enjoy Broadway & country music. I love food. I love drinking water. I am a certified recreational therapist at Creative Forces Therapy in Madison working with kids and teens. It's absolutely my dream job. Being a recreational therapist with a yoga teacher certification has shown me how important body-based modalities are to people healing & growing. Yoga has given me the knowledge and experience to be the best therapist I can be for my clients and families. My journey to embodiment and healing is one that wouldn't have happened without Dragonfly. If you want to learn about life, your health, your body, and you're willing to be/try to be vulnerable then I highly recommend that you give this amazing place a chance. Last but not least, you will sweat A LOT! Sweating out the toxins while engaging in such a powerful practice is so transformative. It's something everybody should experience at least once in their lifetime. You will not regret your decision!
And always remember, Yoga is for everybody. If you're too frightened to try, let me be your motivation. You can do this!
Instructor Suki Warda: "It is an honor to have McKayla's presence in class. Her practice exudes steadiness and ease. Her steadiness shows up as dedication, deep listening, and a courageous spirit. Her ease is expressed in kindness, grace, & a deep understanding beyond the poses we do. Thank you McKayla for being a beautiful peaceful warrior!"