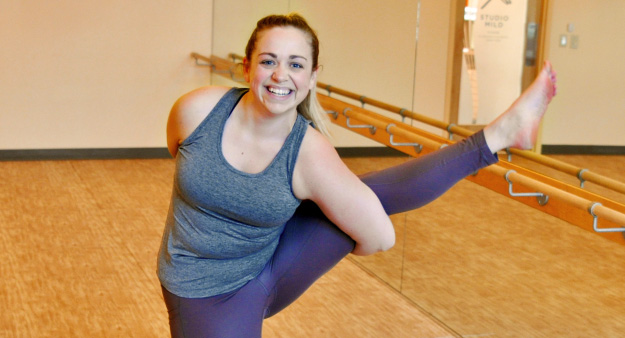 How did you get started at Dfly?
I actually came to Dragonfly with my aunt a few times around 2010 and it always stuck with me. When I was looking to change up my fitness routine last year, I joined again and I've been a yogi ever since.
What was your yoga/barreamped experience before Dfly?
See above: I also took a few trial classes at other yoga studios, but I didn't see the same impact as hot yoga.
What do you enjoy most from attending Dfly classes?
I enjoy carving time out for myself and to wind down from my busy corporate days. I always know I'm coming to a warm (literally and emotionally) and accepting environment where I can challenge myself appropriately.
Have you experienced any changes in your total well-being since taking classes?
My flexibility is back at my teenage ballet dancer level- especially my hips and back! Emotionally, it really helps release any physical or mental tension and can make my day/mood almost instantly lighter.
How often do you attend classes? Favorite class?
My goal is to come to class 3-4 times a week but during a busy week, I attend about two classes. My favorite class is 5:30 on Thursdays with Kristen because it is challenging. I also like Saturday mornings with Jonathan because he's intense and it sparks my entire weekend. I also can't go wrong with a Cassie or Rachel class because they are rays of bright, positive sunshine. :)
Please feel free to share any other thoughts you have about Dfly, hot yoga, or your life as we would love to know more about you.
I'm just about to hit my 100 class mark at my one-year Dfly anniversary!
Instructor Cassie Everhart: "Sophie is such a pleasure to have in class! I don't think I have ever seen her walk into the studio without a huge smile on her face. She always makes sure to ask how the front desk person is doing as well as the instructor. As for in class Sophie is always willing to try new things yet has no ego about the practice if she falls she laughs at herself and tries again, long story short Sophie is a delight and very deserving of title of YOM!"