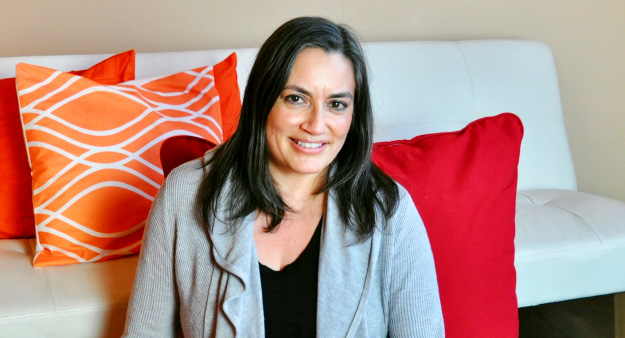 How did you get started at Dfly?
It's been so long but my guess is that like many people, I saw the 10 passes for $99 and figured why not? And over the years I would attend classes on and off, usually utilizing the $99 offer. But last year I decided to prioritize myself and my overall wellness and became a member. It's been the best thing for me too because instead of just going to classes sporadically, I attend much more frequently which makes my cost per class cheaper than a Starbucks coffee:-)
What is/was your yoga/BarreAmped experience before Dfly?
I've probably done yoga on/off for almost 20 years. I was lucky for a time that my employer offered lunchtime yoga and pilates classes. Back then I did yoga mainly as a way to stay flexible for tennis and found that yoga really helped with recovery and injury prevention.
What do you enjoy most from attending Dfly classes?
I love how each instructor brings their unique style and I'm able to learn something from each of them. The classes aren't just about the physical, they can have a spiritual element, a motivational side, a way to reframe a thought. I'm naturally a competitive person and my own harshest critic so the classes at Dragonfly have been good for me to find that balance of challenging myself at the same time accepting myself. Dragonfly also has a nice variety of classes so there is definitely something for everyone.
Have you experienced any changes in your total well-being since taking classes?
At the risk of sounding like I've drank the Kool-Aid, yes! I have had some health issues the last several years and found myself in this vicious circle where I didn't have energy for physical activity, then when I would exercise it hurt during and after, so then I didn't want to do it. Plus, I was always taking ibuprofen to less and less effect. And did I mention I have a job where I sit at a desk all day? But now that I've made my health a priority and attend classes regularly, I have more energy, I don't have any of the aches and pains I had before, I feel stronger physically and mentally, and can't remember the last time I took ibuprofen.
How often do you attend? Favorite class.
Although I am trying to make myself a priority, I have a son who's active in hockey and tennis, so my schedule revolves around his. Yoga will always be there for me but he will only be in school for a few years, so I want to be there and support his endeavors. I usually attend at least 3 times a week but 4-5 is the norm. Some of my favorites are Monday nights with Ashley. Just love her personality and the energy she brings to each class, plus she mixes things up to keep it fresh. Megan's 75 minute flow class on Sunday is another one, and she introduces challenging binds and poses. Nicole's yoga up is a fun workout because she pushes you but has a great sense of humor about it so you leave the class sweaty but smiling.
Please feel free to share any other thoughts you have about Dfly, hot yoga, or your life as we would love to know more about you.
I started out just doing yin classes, which I still enjoy, because that's all I thought I could do. Eventually I decided to try slow flow and worked up to regular flow. This year I decided I am going to try every class they offer (except maybe the prenatal ;-) because I don't want to tell myself that I can't do a class without having tried it for myself. I think I was too worried about things like what if it's too much, what if I look stupid, are people going to judge me for having to stop and get water or a myriad other things. But finally I started listening to what the instructors have been saying in class rather than the doubt in my head: this is your practice, do what works for you today, take what you need and leave what you don't, and if you're uncomfortable it means you're growing. So yeah, I decided to try yoga up and it's one of my favorite classes! I struggle with some of the cardio at times because I have some breathing issues related to Covid. But instead of never trying the class because I think I can't do it, I'm glad I tried the class and I just modify the cardio part when I have to. Now I need to try some of the other classes I thought I couldn't do, such as cardio barre! Maybe I'll like it, maybe I won't but I'm going to find out for myself instead of just assuming that I can't do it.
I also brought my son to yin classes a few years ago when he had a hip injury and the classes helped get him back on the ice. I gave him a 10 pack pass for Christmas, and it's been an eye opener for him to see that although he's a strong, athletic young man, he can also work on his flexibility. It's also good for him (and me!) to see men, women, young, old, every body type in one place engaged in a healthy activity that you can do your entire life.