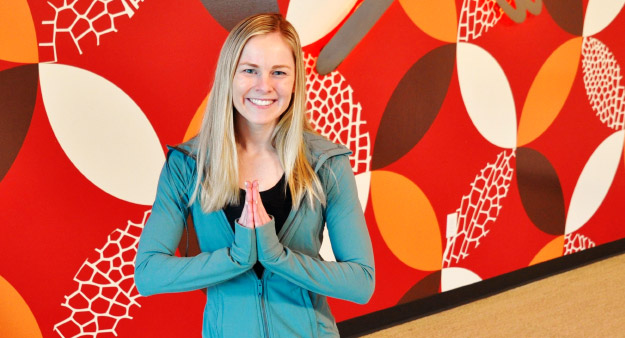 How did you get started at Dfly?
I moved to Madison in 2018 just before starting pharmacy school at UW. I had been practicing yoga on and off for the last few years and knew I wanted to find a studio in my new town. I tried several different yoga/barre studios but I loved dragonfly the most. They had so many classes at several different studios around Madison but it was mostly the instructors who were supportive, welcoming and really dedicated to creating a relaxing and fun environment. After I did the 30-day membership, I was hooked and have pretty much been a member ever since!
What was your yoga/BarreAmped experience before Dfly?
I started doing bikram yoga my junior year of high school and like many yogis, was "addicted" to the high intensity classes. I did my undergrad at Indiana University in Bloomington, IN and would try a different studio almost every semester but never really found one that I loved. I still practiced at my home studio over the summer and on breaks but my practice always felt a little fragmented without a consistent studio.
What do you enjoy most from attending Dfly classes?
The welcoming environment and the flexibility of classes to work with my busy schedule. Trying to balance grad school, work, and other responsibilities means my days are constantly go go go. Although I LOVE to get there early to relax before, it is not always possible. Even when I'm flying in minutes before class starts the instructors and members are always happy to see you and glad you are able to make time in your day.
Have you experienced any changes in your total well-being since taking classes?
So many! I have grown a lot in my balance, strength and flexibility which definitely makes you feel great! But really it is the benefits on my anxiety which keep me coming back. The practice reinforces itself because as I have learned to be mindful and center myself with breath during the poses and workouts I am better able to handle stressors in my day to day. When I find myself sweating the small stuff outside of class, I can take a deep breath and remember it is all just practice!
How often do you attend classes? Favorite class?
Really depends! Some weeks I go 5-6 times whereas others I am lucky if I can squeeze 1-2 in. If I had to choose it would probably be Yoga Up with Brooklyn! Early on I would exclusively go to yoga only classes but during one of my first fitness classes (when I was STRUGGLING) Brooklyn could not have been more encouraging. She always shakes things up and plus we share a love for Taylor Swift. Now I will attend every yoga, fitness or barre class because all the instructors are amazing and no two classes are the same!
Please feel free to share any other thoughts you have about Dfly, hot yoga, or your life as we would love to know more about you.
In my other studios I always felt like I needed to push myself but at dragonfly the instructors are constantly reinforcing the idea of PRACTICE. Dragonfly is the place where I have learned to let go of perfectionism and accept that it is much less about the postures as it is about the mindset and being in the moment. It is not supposed to click right away or even every time! There are good and bad days (like everything else in life) so if you try a class and feel like it is not for you that is normal. Keep going and pretty soon you will be just as hooked as the rest of us!