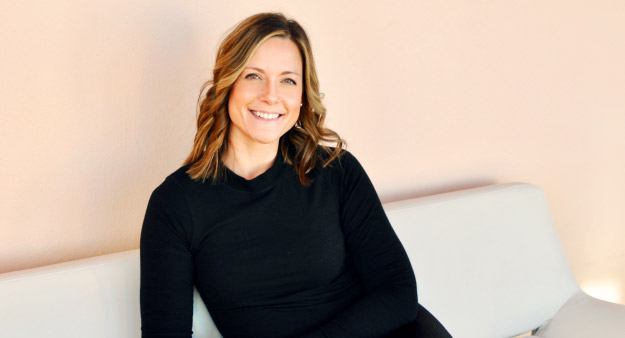 How did you get started at Dfly?
I had passed by the studio so many times, was intrigued and thought, "I should check that out." So on Mother's Day in 2015 I treated myself to a trial class of Power Up and was immediately hooked!
What is/was your yoga/barreamped experience before Dfly?
Pretty much zero! I had been to a yoga class at another local studio, but it just didn't feel right…it felt like I was clearly the new person. It just wasn't a welcoming atmosphere so I never went back.
What do you enjoy most from attending Dfly classes?
I love the energy in the classes and the inspiration and motivation from both the instructors as well as the students. From the moment you enter the door, you are warmly greeted and everyone is so welcoming and positive. In addition, it never gets boring! The variety of classes, the difference in teaching styles keeps it so fun.
Have you experienced any changes in your total well-being since taking classes?
Absolutely! Every class is a stress reducer and helps challenge me mentally and physically. I can now do poses I wasn't able to when I started, my weights have increased and my burpee count during Tabata has gone up:)
How often do you attend classes? Favorite class?
I typically attend 3-4 classes a week. Hands down my favorite is Power Up. It is challenging enough to really test you mentally and physically but manageable enough that you aren't (completely) dying! The classroom has so much energy and you can really feel the support from everyone around you. A very close second is Yin, even though it is the total opposite. It really forces me to slow down from a busy life and focus on the moment and myself.
Please feel free to share any other thoughts you have about Dfly, hot yoga, or your life as we would love to know more about you.
If you are on the fence about checking Dragonfly out you definitely should. The best thing about it is how welcoming everyone is – there are all different fitness levels and body shapes but there is zero judgement and only positive attitudes surrounding you. I feel truly blessed to have the opportunity to have a place like it where I can better myself mentally, emotionally and physically all while being surrounded by such inspiring and strong individuals. It's impossible to not leave feeling immensely better than when you walked in.
Instructor Pam Fox: "Lauren is such a joy to have in class!! I love that she challenges herself & really makes fitness & living a healthy lifestyle a priority in her life! Even the other members in the class love working out next to her because of her motivation and intensity! Well-earned Yogi of the month!"