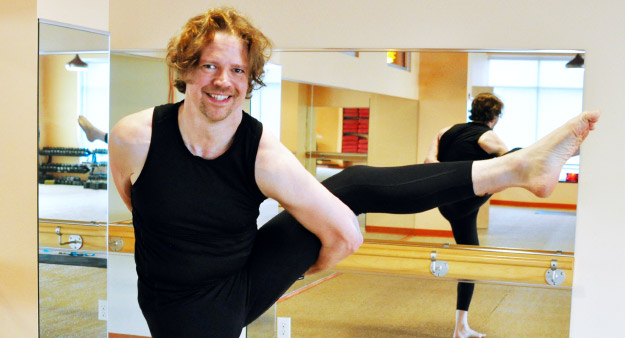 How did you get started at Dfly?
I am a rather "shy" person (being an Aspie), and my first year of practicing Yoga was done in my home. So I took a leap and signed up to both expand my practice, and also challenge myself to get out of my bubble. Dragonfly's philosophy of Yoga for every shape, every size, every person really spoke to me. Being someone who had struggled with their weight (up until very recently) and self-image (WIP), I thought, this is the place I want to try!
What is/was your yoga/barreamped experience before Dfly?
I became interested in Yoga listening to a book in which one of the characters was a Yogi. I was failing to find a good way to exercise at home at the time and thought "hmm… Yoga? Haven't tried that. A mat is only $35 on Amazon? Weights are how much during the pandemic!?! Ok, so yeah, let's try yoga!"
So, I downloaded an app, rolled out my new mat and did a 15-minute flow. I was very, VERY out of shape and 50 lbs heavier than I am today, so that 15 minutes routine kicked my rear… but I loved it. I absolutely loved it. I spent the coming weeks working my way up to 60 minute practices, and celebrated by getting a fancier mat (that I still use today and adore, we're besties). I continued to practice an hour a day from home until I moved to DFLY on my 1-year anniversary of practicing.
What do you enjoy most from attending Dfly classes?
The community, the staff & instructors (seriously, y'all rock), and the heat (95 degrees, let's go!). Everyone is always so fun, kind, and inspirational. I love to look around and see what everyone else is trying; see how they work their modifications and manage their pace. It's inspiring and I continue to learn so much from those around me. I love pushing to the edge… and falling past it.
Have you experienced any changes in your total well-being since taking classes?
Gosh yes, so many changes. I feel stronger, more flexible, and just all around healthier, both mentally and physically. I've always been a focused person, but also impatient at times. I am far more patient these days, especially with myself and my own practice. I deal with chronic pain, and Yoga has helped make it far more manageable with the daily stretching and conditioning.
How often do you attend classes? Favorite class?
I would go daily if work wasn't work, but I still manage to get in 6-7 practices a week on average. Did I mention I love yoga!?! I've loved every class I've taken, including the one Yoga Up I did with Tiffany (where I was pretty sure I was going to die!). My favs are standard flow and power but I try to mix in as many different as I can. Oh, and I intend to give Up a go again soon. ;)
Please feel free to share any other thoughts you have about Dfly, hot yoga, or your life as we would love to know more about you.
If you're like I was– reading these articles to decide if you should try DFLY, just do it — you won't be sorry. I didn't think I'd like the heat, but I, and my muscles, absolutely love it. I wasn't sure I'd fit in, but immediately felt welcomed and a part of the community. DFLY has become my second home.
As for a 'lil about me, I am an Expert+ Beat Saber player, a big video/board gaming nerd, and I enjoy baking and making homemade pizza from scratch (I'll never turn down pizza — sorry tummy). Also, I'm excited, and a 'bit' terrified, to be enrolled in the Yoga Teacher Training this spring.
Instructor Kay Lera: "Kyle is a dedicated Yogi and he shows up on his mat as often as he can. He brings a quiet, cheerful presence to our DFlY community and, at the same time, he fearlessly seeks answers to soulful questions. Kyle has made everyone at Dfly better- just by showing up on his mat!"