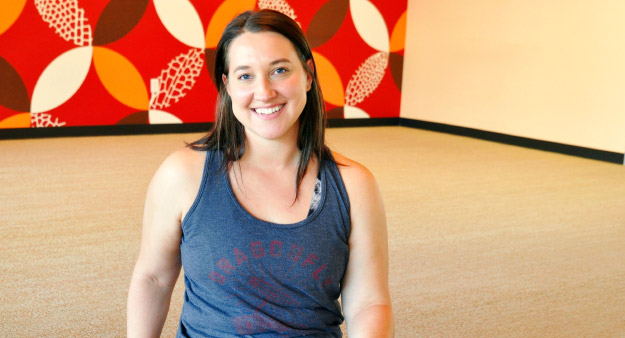 How did you get started at Dfly?
I wanted to get into yoga, but I was intimidated. I started looking around and Dragonfly happened to have a yoga for beginners workshop at the time. It was exactly what I needed and I was hooked. A friend joined at the same time and it was awesome to have someone to go with and the perfect excuse to meet up multiple times a week.
What is/was your yoga/BarreAmped experience before Dfly?
I occasionally tried an at-home yoga video, but basically none.
What do you enjoy most from attending Dfly classes?
I love the atmosphere and positive energy during classes. I feel relaxed and stronger when I leave and I know that I got a great workout. Plus, the heat during winter is a nice bonus.
Have you experienced any changes in your total well-being since taking classes?
Consistently going to classes has helped me deal with stress and I feel much calmer. I also feel stronger and have started to regain the flexibility that I used to have.
How often do you attend classes? Favorite class?
Before Covid I was going about 4 times a week. Since then, my entire schedule has changed and I try to go at least twice a week. I used to go after work, but I've been going to morning classes and realized that I love starting my day with a great workout. My favorite class was Fire, but while I wait for that to come back, I'm enjoying a mix of Flow and Yoga Up.
Please feel free to share any other thoughts you have about Dfly, hot yoga, or your life as we would love to know more about you.
I'm so thankful I found Dragonfly all those years ago. It has been such a wonderful experience and I am so appreciative of the community here. Thank you to the amazing instructors and staff that make it happen!