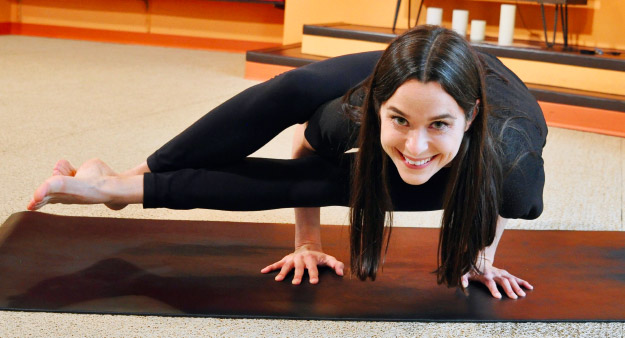 How did you get started at Dfly? What was your yoga/barreamped experience before Dfly?
I was looking for ways to incorporate more mindfulness into my life and took a yin class with a friend. I was immediately hooked and became a regular attendee and member in April 2019. I took a few yoga classes at a different fitness center prior.
What do you enjoy most from attending Dfly classes?
As one of the instructors puts it best: For that one hour I can say "see you later outside world!" It's fun, it's challenging, and so rewarding.
Have you experienced any changes in your total well-being since taking classes?
Yes! I'm kinder and more patient with myself and others. Yoga has been a great metaphor for life, emphasizing how nothing is permanent or perfect. As that same instructor likes to say, "you nailed it, wobbles and all!"
How often do you attend classes? Favorite class?
I typically attend 6 classes a week. I love the mixture of vinyasa flow, yoga up, and yin!
Please feel free to share any other thoughts you have about Dfly, hot yoga, or your life as we would love to know more about you.
I live in Middleton with my boyfriend Kamal. I'm a UW Madison graduate and work as a pharmacist. I'm a Badger fan and love yoga at Dragonfly (obviously), reading, walking, cooking/eating plant-based meals, and spending time with family and friends – especially my twin sister Melissa! I want to express my sincere gratitude to the Dragonfly community – to the staff who always provide a warm welcome and smile (that I can sense under their COVID masks!), the dedicated instructors, and my fellow yogis who provide me connection and motivation. Thank you!
Instructor Alexis Johnson: "Megan is always a joy to have in class! She seems to be very consistent with her fitness routine and it's always great to see her at Dfly. She introduced herself to me early on which as a new teacher is always nice. And we bonded over my throwback playlists."