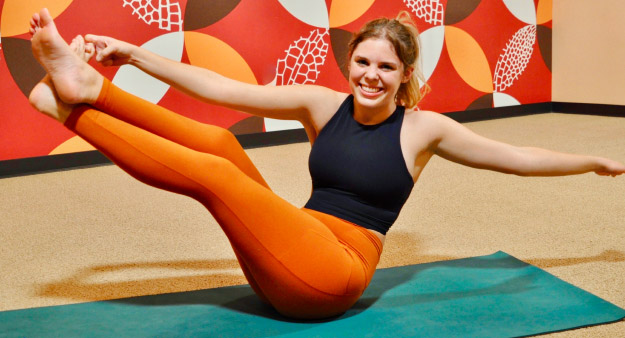 I got started at Dragonfly after moving to Madison at the beginning of the summer. I was looking for a yoga studio and signed up for the month unlimited and I loved the classes, so I've kept going and I've really enjoyed it!
I've always enjoyed yoga, but I just did a few classes here and there until 2020, when I started doing Yoga With Adrienne videos on YouTube everyday as my quarantine hobby. Doing yoga everyday during quarantine inspired me to find a yoga studio and develop a true yoga practice.
I feel very strong when I attend Dragonfly classes. I feel very powerful particularly during flows that have a lot of balancing poses and derive a lot of satisfaction from seeing small improvements in my strength, balance, and flexibility over time.
I have definitely noticed an improvement in my well-being since starting Dragonfly classes. My anxiety levels are lower and I feel stronger, healthier, and happier. Doing these classes clears my mind and makes me a more positive and productive person.
I attend classes about 5-6 times a week. My favorite classes are 60 minute flows and the more I attend them, the more I develop muscle memory for the flow, which is very satisfying.
I just think yoga is a really life changing practice and Dragonfly is a great place to cultivate it! It's such a great combination of exercise for your body and a mindfulness practice for your mind and I love being a part of the Dragonfly community.