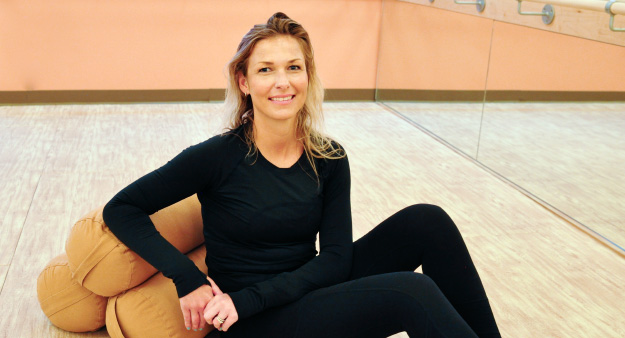 How did you get started at Dfly?
I was starting to get bored with the same sequences of my own practice and thought it was time to learn some new styles and flows.
What was your yoga/barreamped experience before Dfly?
I have been practicing yoga off and on since I was in high school. Mentally, yoga has always been a tool that I've relied on when I needed a distraction or insight on an issue.
What do you enjoy most from attending Dfly classes?
All the teachers cue differently and put value on different transitions; they could all teach the same flow and it would feel completely different and engaging.
Have you experienced any changes in your total well-being since taking classes?
I have a very physical job working with dogs (which I only have gratitude for), but it has definitely taken its toll on my back. Going to class makes my body move better and feel stronger; also it help me to move my body smarter and more mindfully outside of practice.
How often do you attend classes? Favorite class? Please feel free to share any other thoughts you have about Dfly, hot yoga, or your life as we would love to know more about you.
My goal is to go twice a week. I love power flow and flow/yin and I love to go back to aroma yin when that class opens up again. Outside of yoga, I spend most of my free time with my family- 3 little boys (7, 5 and 3), husband and 3 dogs- drawing and golfing.
Instructor Jill Merfeld: "Kelsey brings such a calming energy to the classes she attends. She loves to arrive early and it always makes me smile to see her soaking up the warmth in the room while I set up. It's even more fun to watch her practice! Thank you for sharing your energy with me and the other Dragonfly yogis!"