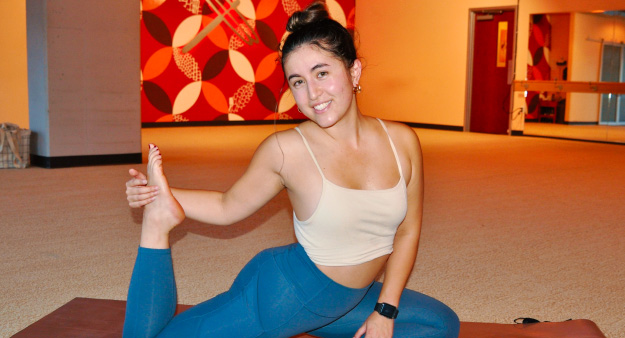 How did you get started at Dfly?
In the Fall of 2019, I had a friend who really enjoyed Dragonfly and would always try to convince me to attend classes with her, finally, I said yes and we attend a 60 minute Yoga Flow class. I knew that DragonFly was for me when one, I had an incredible experience, but two, the scented towel!! WOW! I knew I had to stay.
What was your yoga/BarreAmped experience before Dfly?
Little to none! A few free classes here and there, and I attending group led classes by RecWell through UW-Madison!
What do you enjoy most from attending Dfly classes?
I really enjoy how it makes me feel and I find the environment of Dragonfly really comfortable. I enjoy that there is a lounge available with tea, the hair ties in the bathroom, the shampoo and conditioner available in the shower! But most of all, I love the feeling of doing a really hard yoga class and getting the cool jasmine or eucalyptus scented towel! I am not the best at yoga to be completely honest, but Dragonfly has made me fall in love with the practice, and I'm even interested in becoming a yoga instructor someday!
Have you experienced any changes in your total well-being since taking classes?
Most definitely! I did yoga in Fall 2019-March 2020 and towards the end of my time in March I felt more in control of my emotions and mental health and I felt incredibly strong and capable. While it is now Fall 2021, I have been doing classes consistently again for three weeks now and just the difference in my overall strength and happiness is incredible!
How often do you attend classes? Favorite class?
I attend a class almost every day of the week! Usually, at the very least I will go to 5 classes a week. My favorite class is Yoga Up 45, though it really does kick my butt!
Please feel free to share any other thoughts you have about Dfly, hot yoga, or your life as we would love to know more about you.
Since joining Dragonfly I have seen the importance of yoga and I see it as my form of self-care. This past year I spent traveling through Ecuador, Chile, and Mexico, and in every country, I went to, you can guarantee I was bringing my yoga mat on the plane with me! My yoga mat has been with me everywhere now, and I am so glad to have been introduced to yoga!