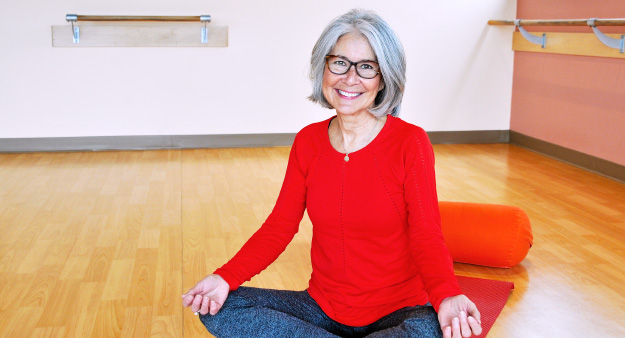 How did you get started at Dfly?
I decided to try Dfly on a recommendation from a friend at work. She assured me that Dfly is a very friendly and un-intimidating community so I decided to give it try. Besides, the 'hot" part really intrigued me. I went first as a guest with my friend, then I signed up for the introductory offer. I tried several different classes, but fell in love with Flow, Slow Flow, and Yin. The yoga teachers were very responsive to my needs, always willing to help with any questions I had. After the first month, I knew I found what I was looking for, so I became a member. That was three years ago!
What is/was your yoga/BarreAmped experience before Dfly?
Before Dfly, I had very little yoga experience. I did take a few classes at YMCA, and went along with family and friends to their classes, but I wasn't drawn to it. I wasn't convinced that Yoga would give me what I thought I needed.
What do you enjoy most from attending Dfly classes?
Besides the classes, the most surprising and enjoyable part of attending Dfly is meeting so many nice people, who I now call my friends. I look forward to seeing them at class, and sometimes they are the motivation I need to roll out my mat. The staff at Dfly are so inviting and friendly, too. And I do love the HOT of Dfly!
Have you experienced any changes in your total well-being since taking classes?
I started yoga mostly to improve my balance and flexibility. But, I soon found that yoga truly is a full body/mind "work-out" that builds strength, endurance and mobility, as well as cardio. I am definitely stronger, especially in my core. I am able to bend, kneel, and reach so much more flexibly. Because of these gains, I feel so much more confident to do physical activities and attempt those yoga poses I would have never thought I could at the beginning of my yoga journey. All those little aches and pain and stiffness disappears, too. But most importantly, consistent yoga practice helps me feel happy and more focused which helps me to be present and mindful. Life, and all its complexities, seems just a little easier to deal with when there is yoga in my life.
How often do you attend classes? Favorite class?
I usually attend 3-4 classes per week. I can't pick a favorite because every class brings something different and new to my practice. The teachers keep the classes interesting and provide me the opportunity to challenge myself.
Please feel free to share any other thoughts you have about Dfly, hot yoga, or your life as we would love to know more about you.
I do so appreciate Dfly – Sun Prairie's staff for creating a safe and fun environment in which I am able to push myself to try new poses and continue to "strive for progress, not perfection".