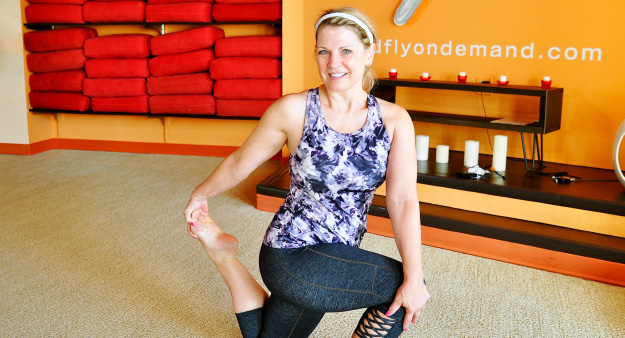 How did you get started at Dfly?
I got started at Dragonfly years ago (don't remember when) then stopped for a bit then restarted in Jan of 2020. I did the online classes much of COVID.
What is/was your yoga/barreamped experience before Dfly? What do you enjoy most from attending Dfly classes?
I have attended some other yoga classes in Waunakee before Dragonfly. I really enjoy the instructors at Dragonfly. I also love the "hot" and the ability to challenge myself, or not. The classes offer nice modifications. I feel very comfortable as there are all different people and ability levels in the classes. It is an opportunity to just focus on myself for that time. The cool towels at the end are the best reward!
How often do you attend classes? Favorite class?
I feel the classes have helped me focus on myself and my health. I have noticed and increase in strength, balance, focus and wellbeing. Classes have become a priority for me. I feel overall better when I attend. I try to attend classes at least 5 times/ week. My favorite classes are the flow classes, but I do love the aromatherapy yin too!
Please feel free to share any other thoughts you have about Dfly, hot yoga, or your life as we would love to know more about you.
In the fall I will be going back to teaching 1st grade, so no more 9 am classes, but I will try to go to evening classes as much as possible (weekends too!). I will still keep yoga a priority, as I feel better for it. I enjoy coming to Dragonfly as much as possible. It is an easy and quick transit from Waunakee, where I live. My daughter, future son-in law, and future daughter in law are all members too and love it. I am working on my son and others to join. I know they will love it too!
Instructor Anna Lindstrom: "Amie is like a ray of sunshine every time she comes into the studio. Her spirit for learning and growth is evident in her practice… and she always does it with a smile. She radiates positivity and kindness. I will miss her on Thursday mornings when she returns this fall to her very important work of teaching our young people. (Lucky kids!)"