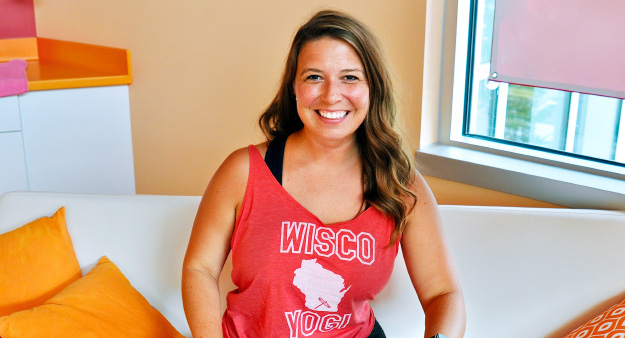 How did you get started at Dfly?
I wish I knew the exact answer as to how I got started at Dragonfly, but I think I was at a standstill with my fitness routine and wanted a space and place that would be consistent for me so I tried some classes at Dfly and never looked back!
What was your yoga/BarreAmped experience before Dfly?
I did a fair amount of barre but only dabbled in yoga and never did hot yoga. Regular yoga never did it for me; I found myself letting my mind wander and not getting the benefits of a yoga practice. It wasn't until I went to a HOT yoga class that I realized how much I loved that style of yoga practice.
What do you enjoy most from attending Dfly classes?
I enjoy the ability to attend many different kinds of classes throughout the week that fit in with my schedule the way I want them to. Also, I love that so many of the teachers have such different styles of teaching but they all make their class welcoming and encouraging.
Have you experienced any changes in your total well-being since taking classes?
There have been so many times where I go to class and it takes every fiber of my being to get there because I'm not in a good mental place for whatever reason. Every single time I'm done with class when I feel like that, I am in such a new and rejuvenated mental place — it's incredible!
How often do you attend classes? Favorite class?
I attend classes about five to six times a week. I'm not just saying this, but I love all types of the classes, but I've especially started to appreciate the Flow and Yin classes because I like the ability to get a quick flow in and then deepen my stretching.
Please feel free to share any other thoughts you have about Dfly, hot yoga, or your life as we would love to know more about you.
I am so thankful for this community! COVID really took a hit to my mental state and having livestream classes as resources were great, and the feeling I got when I walked back into the studio after studios reopened is happiness I can't really describe. Thankful for my DFly community!