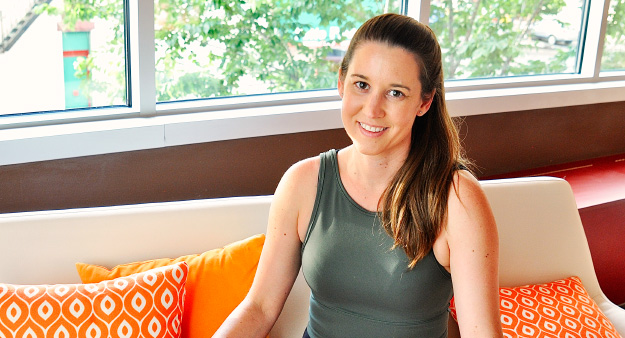 How did you get started at Dfly?
I found Dfly when I moved to Madison in 2018.
What is/was your yoga/barre/fitness experience before Dfly?
I've been practicing hot yoga for about 10 years!
What do you enjoy most from attending Dfly classes?
It's been wonderful to be in an active space with others again over the past few months. It's great just to have the space and time dedicated to practice and to be in-person again. And of course the cold towels during savasana!

Have you experienced any changes in your total well-being since taking classes?
Yoga definitely re-centers me throughout the week.
How often do you attend classes? Favorite class?
My favorite class is Chakra Flow to open something up and have a new focus each week.
Please feel free to share any other thoughts you have about Dfly, hot yoga, or your life as we would love to know more about you.
It's so wonderful to be able to share yoga with other Dfly-ers again! I'm a professor at UW-Madison and you can find out about my research on eating disorders, exercise, and body image at: https://embark.psychiatry.wisc.edu