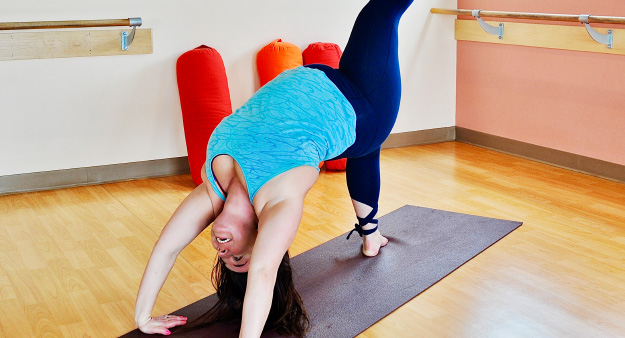 How did you get started at Dfly?
I asked my husband to get me a gift card for Christmas a few years ago because I knew that would give me the motivation to stop being intimidated and get into the studio. The first day I walked into the studio I took Flow at 5:30 am and was hooked. Yoga at Dfly was so different than I had imagined.
What is/was your yoga/BarreAmped experience before Dfly?
None – I was a runner and group fitness class taker prior to Dfly.

What do you enjoy most from attending Dfly classes?
Where do I start? The variety of classes and the INCREDIBLE instructors who encourage me to test my limits and grow into poses top the list. In addition, no matter what mood I enter the studio in, I always leave feeling strong, positive, and ready to tackle life off my mat. Dfly has also been a great place to meet new friends and share the gift of yoga with friends and family. Dfly is a refuge in an otherwise hectic life that allows me to dedicate time just to myself. And, the practice of yoga encourages students to find their edge and be proud to fall out of a pose when you reach it. Off the mat, this principle has helped me find my edge, be OK with imperfection, and encourages me to keep trying. Eventually, on or off the mat, the edge keeps creeping forward while I continue to grow into poses and life.
Have you experienced any changes in your total well-being since taking classes?
So many! Physically, I have gained a lot of strength and flexibility…Chaturanga, Chaturanga, plank, plank, anyone? The first time I made it alive through Nichole Vega's Fusion 75 class (not my first, second, or third try I assure you), I felt like I had physically and mentally run a marathon… or whatever the yoga version of that would be. Meaning, you need the mental strength just as much as the physical in practice and life. The learned lessons of connecting my physical, mental, and spiritual self to breath on and off the mat have provided me with a different, more compassionate and energetic, world view. Dfly has empowered me to know that no matter what insecurities bubble up daily, I am enough.
How often do you attend classes? Favorite class?
Depending on my schedule no less than twice a week, but ideally four-five times a week. My favorite classes are Flow, Flow 75, Core Flow, and Fusion. There are so many incredible instructors, but I have to give a shout out Nichole Vega, Bekah Grant, Nicole King and Kelly Perna who bring so much joy (and a little pain) into every class they lead and have genuinely had a positive impact on my life.
Please feel free to share any other thoughts you have about Dfly, hot yoga, or your life as we would love to know more about you.
If you are the least bit curious about Dfly, do not be intimidated to give it a try. Everyone is so kind and patient. You will never be made to feel like a new yogi. Most importantly, have fun with yoga, it doesn't always have to be serious! Namaste.