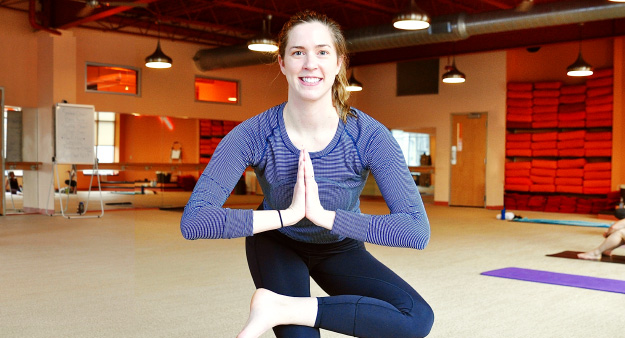 I have dabbled in yoga and fitness classes since college, but it wasn't until I broke my arm 3 years ago that I really got into yoga & Dragonfly. I broke my arm snowboarding, so a hot yoga studio seemed like the complete opposite of an icy mountain and a safe place to start becoming active again.
I had a lot of anxiety going into the first couple of classes, but Shawn and Carrie were so welcoming. They both had this infectious positive energy and the exact "sure you can do yoga with one arm, why not?" kind of attitude that I needed. I am sure my downward dog resembled something of a wobbly one-armed fallen tree, but they were so supportive and taught me to embrace and honor my body. That was when I finally started to meet my body where it was. I couldn't work for 10 weeks, so I started going to yoga all of the time, my hair in whatever type of ponytail my husband (boyfriend at the time) could conjure up. Eventually I came to class, put my own hair up, and successfully did a 4-legged downward dog— I felt so strong and accomplished & have been hooked ever since!
That is why I love the culture at Dragonfly—all you have to do is show up, goof around a little, and grow. The instructors have an incredible way of making you feel strong and awesome. Dragonfly gave me back the strength and confidence to get back out there and explore the world!
Yoga has taught me to appreciate how incredible our bodies are, and the amazing things they are capable of. Practicing yoga helps me to live an overall healthier and active lifestyle. Yoga has given me the strength and endurance to be more adventurous when hiking and traveling, as well as definitely improving my performance in Rec League volleyball.
Instructor Shawn Smith: "Elizabeth will try anything… anything at all! That's what I love about her fearless attitude! She's willing to laugh at herself at any given time too – doesn't take herself too seriously! Elizabeth is also dedicated and creative. She managed to stay with her yoga practice throughout an extensive wrist injury. She was smart and realistic but thought creatively to keep her practice solid."