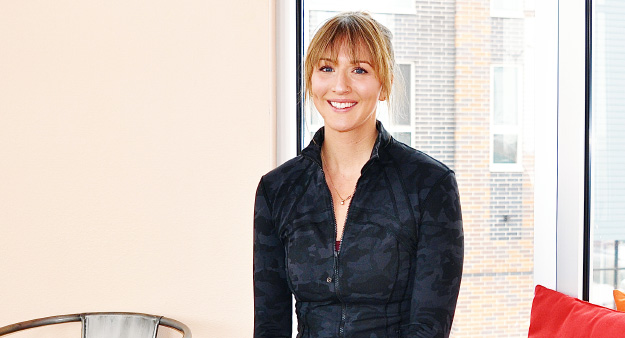 How did you get started at Dfly?
I was trying out a few different yoga studios in Madison and decided to do the Intro month at DFly. I was happy to see classes offered early enough for me to attend before work. That helped me get into a routine, and pretty soon I decided to join as a member!
What was your yoga/barreamped experience before Dfly?
I thank my mom for making me go with her to a hot yoga class when I was home during a college break. Although I had no idea what I was doing, I remember walking out of the class feeling lighter and more relaxed. Since then, I've been practicing yoga for about 10 years, taking breaks here and there due to various reasons. Every time I would come back to my mat, I would think to myself, "WHY did I ever stop? I need this!" So for the past few years, I've made yoga a regular part of my life. Barre is newer to me and I was hesitant to try because I thought I had to be a dancer- I have absolutely NO rhythm. However, I decided to give BarreAmped a chance, and it is now one of my favorite classes! While I still cannot dance, I can hold a pretty long plank!

What do you enjoy most from attending Dfly classes? Have you experienced any changes in your total well-being since taking classes?
The HEAT! I struggle with the long winters (even as a WI native) so the hot room provides a much-needed break. Definitely, when I am not practicing yoga consistently, I more often find myself dwelling on the past or feeling anxious about the future. Doing yoga reminds me to be more present and mindful in my day-to-day life, especially when I am driving in traffic or in front of a computer screen at work all day. It's amazing how just one or two deep breaths can make me feel grounded and at peace, regardless of what is happening around me.
How often do you attend classes? Favorite class?
Usually 3-4 days a week. I enjoy starting my day with the early morning flow classes. On the weekends, I like to mix it up with BarreAmped and Fusion. So nope, I can't pick a favorite!
Please feel free to share any other thoughts you have about Dfly, hot yoga, or your life as we would love to know more about you.
Another thing that I love about yoga is the emphasis on non-judgement. Suki once said something that really resonated with me: "If you're just here to get a yoga butt, you already do. You all have butts and you're all doing yoga."
Instructor Sam Brenner: "I love having Kim in class each week! Even during early morning classes, she brings a contagious smile and energy to the studio. Congratulations, on Yogi of the Month, Kim! It is truly well-deserved!"