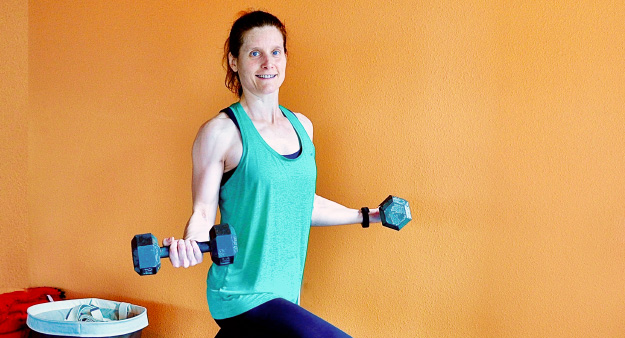 How did you get started at Dfly?
I started with the groupon $40 for unlimited classes for a month.
What was your yoga/barreamped experience before Dfly?
My first yoga class was when I was in Second Grade taught by my Mom who studied in India. Fast forward a few years (well, more like decades), I started doing Yin classes to work on my flexibility. After a year or two, I started taking Flow classes. The heat really helped my flexibility and my recovery from running, rowing and weight lifting. Then, when my favorite weight trainer stopped teaching, I treated myself to Power Up/Yoga Up/Circuit Up. It took me 6 months to acclimate to the heat but it was so much more fun than going to the gym and easier than creating all my routines.

What do you enjoy most from attending Dfly classes?
The people!
Have you experienced any changes in your total well-being since taking classes?
Flow helps me clear my head, my focus, and keeps me centered. I've also noticed my overall fitness has improved from Yoga Up. My core is stronger and without the wear and tear on my joints that running was having.
How often do you attend classes?
My goal is 3 times a week and 1 spin class … My favorite class is the one I make it to on time.
Please feel free to share any other thoughts you have about Dfly, hot yoga, or your life as we would love to know more about you.
I am grateful for Dfly and the community. I was initiated at other yoga studios and I feel comfortable at Dfly.
Instructor Kati Whitledge: "Jennifer is the fiercest boxer in our PowerUp kickboxing segments. Her commitment is inspiring. She's always supporting women in class. What I love the most is how much she wants to elevate our community! We love her and always enjoy our sweat sessions together!"