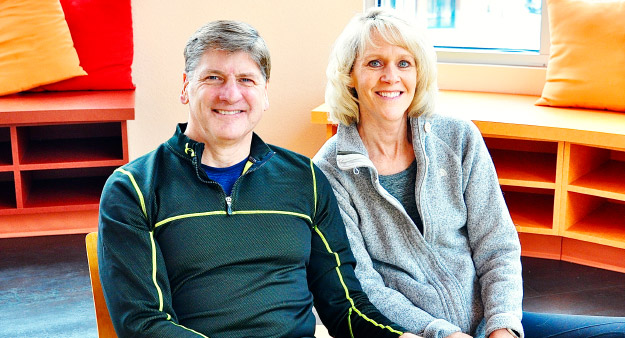 How did you get started at Dfly?
We started at Dragonfly with the 30 day promotion three and a half years ago. Before the 30 days were up, we signed up for the couples monthly membership.
What is/was your yoga/barreamped experience before Dfly?
We both had previously taken a few yoga classes at other studios.

What do you enjoy most from attending Dfly classes?
We like the variety of classes offered at Dragonfly and the excellent instructors.
Have you experienced any changes in your total well-being since taking classes?
We have absolutely experienced the benefits of taking yoga classes. Our overall well-being is greater, and we have noticed better balance, strength and flexibility.
How often do you attend classes? Favorite class?
We go to four or five classes a week. We like Flow, Flow & Yin, Slow Flow, and Aroma Yin.
Please feel free to share any other thoughts you have about Dfly, hot yoga, or your life as we would love to know more about you.
Our yoga experience helps keep us young so we can get the most enjoyment with our six kids and three (almost four) grandkids.