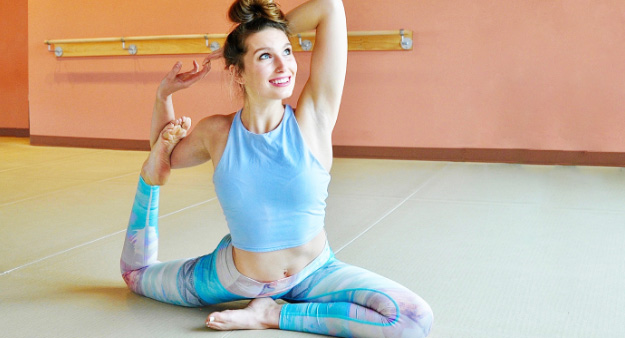 I began my fitness journey with CrossFit, however after a wrist injury decided that the intensity of the sport was too much for my body at that point in time and began looking for other methods of working out, which brought me to yoga. Shortly before I moved to Madison, I began actively partaking in yoga classes. With my background in dance, I've always had an interest learning and practicing yoga. After attending my first yoga class at DFly, I knew I had struck gold and, after only my 2nd class, purchased a monthly membership. Since then, my thirst for developing my yoga skills has grown and I am constantly seeking opportunities to improve with each class I take.

Growing up in an active family and being a dancer, I learned body awareness at a young age. My initial impression of yoga was that it was not a hard enough workout so I rarely practiced, that is until I learned that I had control over the difficulty and became more invested in the sport. I began with Sculpt classes and challenged myself to explore other classes offered at DFly, which provided me exposure to Core Flow, Flow & Yin, which are all classes I now take on a regular basis.
Dragonfly offers a breadth of classes with varying tempos and physical demands. It's the perfect spot for a full body workout, core-centered activity, or deep stretching. Yoga is for everybody and each body, every day. If you want a stretch, Yin class is sure to loosen you up. If you prefer a difficult or high intensity workout, try a core flow, yoga up or circuit up class to ensure you will wake up sore the next day. Dragonfly offers all of these classes & more to help you achieve your ultimate fitness goals. The staff and community are all extremely welcoming as well, which makes you want to go to class every day.
Extreme changes have occurred not only in my physical health, but also within my mental health since beginning yoga. I've never felt more balanced or secure in my health and well-being. I aim to attend 5+ classes/week. My favorites are Yoga Up by Shawn Smith and Core Flow by Nichole Vega, but each class and instructor is different and provides a unique experience.
Yoga has truly changed my world and I enjoy sharing the practice with family & friends. I cannot think of a better way to appreciate a workout while supporting your community and finding peace of mind. I am grateful to share my journey to yoga with our lovely DFly community!
Instructor Nichole Vega: "Tori is a regular in Monday Core Flow and is always up for a challenge. She brings strength, focus, and a positive mind set to her mat every class. I love having Tori in class. Congrats! Well deserved!"