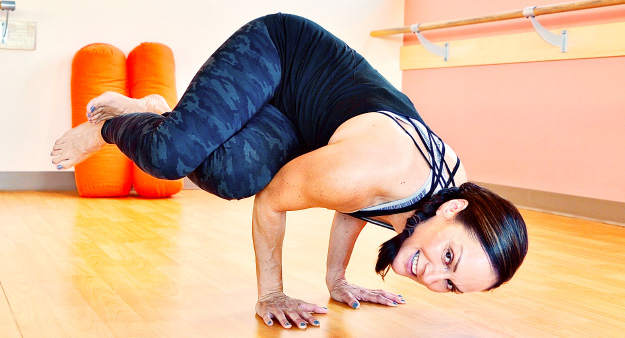 How did you get started at Dfly?
I started with Dragonfly at the Sun Prairie Opening. I was hoping to find a studio that fit my yoga style and am happy to say that I have been practicing there ever since!
What was your yoga/BarreAmped experience before Dfly?
I had been practicing yoga on and off for over 20 years, but not consistently before joining the Dragonfly community.

What do you enjoy most from attending Dfly classes?
I love how each class is a little different and challenging in it's own way. I leave every class a better version of myself. I also really enjoy the staff and members there. Everyone is so welcoming!
Have you experienced any changes in your total well-being since taking classes?
Definitely – by practicing more consistently my running and lifting have gotten stronger. I'm mentally stronger and better able to deal with life's challenges.
How often do you attend classes? Favorite class?
I try to attend classes at least 3-4 times a week. My goal is to practice every day but sometimes life gets in the way. I really wish there was a Dragonfly Studio in every state! I really don't have a favorite class – I try to do them all. I get the most benefit out of practicing an array of classes.
Please feel free to share any other thoughts you have about Dfly, hot yoga, or your life as we would love to know more about you.
I have 3 children and 1 fur baby. I love hockey, traveling, to read, garden, run and lift heavy.