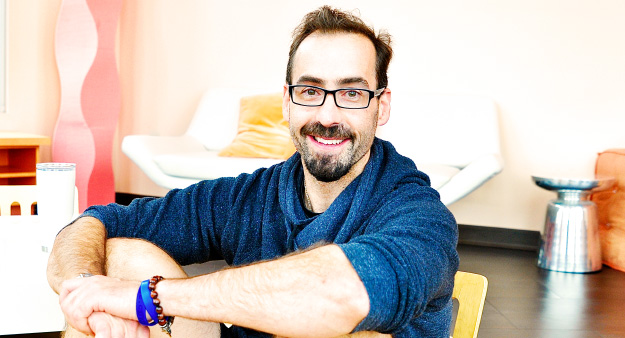 How did you get started at Dfly?
I got started through friends and the $5 drop in classes on Saturday/Sundays.
What was your yoga/barreamped experience before Dfly?
My first exposure to yoga was through P90X 11 years ago when I lost weight and decided to get in better shape. However, I didn't continue practicing so I really only got back into yoga a couple of years ago following a back injury. Last October is when I truly decided to become more dedicated and practice frequently.

What do you enjoy most from attending Dfly classes?
The ambience, the music, and the diversity of instructors. Furthermore, I always feel welcomed, challenged, and most importantly leave feeling satisfied and accomplished.
Have you experienced any changes in your total well-being since taking classes?
Yes, but even more so with a more frequent practice. I would say that even at the age of 40, I'm healthier and more athletic than I've ever been, and yoga is definitely the reason why.
How often do you attend classes? Favorite class?
5-6 days a week if I can fit it in depending on work. And I love Flow classes but also Yin to help loosen up and compliment vinyasa.
Please feel free to share any other thoughts you have about Dfly, hot yoga, or your life as we would love to know more about you.
You guys do a really great job and I think your growth is reflective of that. As for me, I'm just a busy man managing a territory selling orthopedic devices. My life outside of the yoga studio tends to be very fast and dynamic so I really enjoy coming in to tune out and selfishly dedicate an hour or so to myself.
Instructor Kathryn Keener: "Scott's yoga practice is strong and fluid, with intentional transitions and wise detours from any given sequence. His choices are instructive and fun to witness. Outside of his practice, Scott exudes a relaxed friendliness. These are just a few of the reasons we're fortunate that Scott practices at Dragonfly."