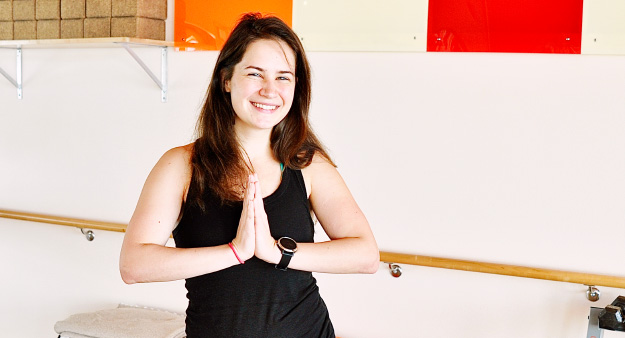 I am honored to be chosen as Yogi of the Month. I've been interested in yoga throughout my life, practicing on and off over the years. In the last couple of years, Dragonfly has made it easy to find a consistent practice. It's been a place where I've seen myself grow in poses, relieved stress, and let go of expectations of what yoga is supposed to be. I love that there is a variety of classes and teaching styles, so it's easy to try something new.
I think I've tried almost all of the different class styles offered. Also, the teachers have such creativity and wisdom that I feel like I learn so much – either learning new poses and sequences or learning something about myself through introspection.

There is a mystical feeling when you lose track of time and just kind of get lost in the flow. I hope that yoga is always in my life, and I would love to teach one day.
Instructor Sam Brenner: "I love having Lexie in class—she always works hard, tries new things (circuit up craziness!), and, most importantly, has her sweet smile at the ready! Her consistency and dedication to herself and Dragonfly is truly admirable. Congrats, Lexie!"