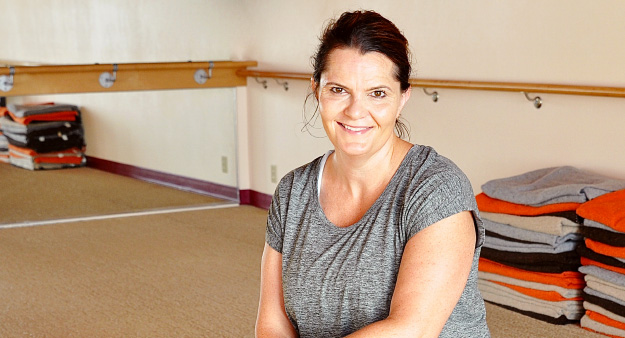 How did you get started at Dfly?
My first class at Dfly was over 5 years ago with a coworker. I then did the one month unlimited intro offer and was hooked! Over the years I have belonged to many different fitness clubs. I would enjoy their classes for a few months, but then they became old and felt like I was doing the same workout every time. Also, the class times didn't work with my schedule. At Dragonfly, each Flow class is different, with different sequences and transitions. The instructors always keep you on your toes (sometimes literally) which makes each class new and fun.

What is/was your yoga/BarreAmped experience before Dfly?
Before Dfly I was always intrigued by yoga, I did attend a few classes at small studios but the classes were too "yoga" and didn't provide the workout part I was looking for. Dragonfly has given that to me, the perfect blend of yoga and workout. Every class provides a different challenge to help me find my edge in at least one pose.
What do you enjoy most from attending Dfly classes?
The variety of classes and class times. But what I enjoy most are the instructors and Dfly staff. They always make me feel welcome and part of a community, not just another member.
Have you experienced any changes in your total well-being since taking classes?
Since doing yoga on a regular basis, I have noticed a decrease in headaches and back pain. I'm proud that I can hold my plank longer and do several pushups. I'm still humbled on how heavy 1 & 2 lb. weights are in BarreAmped Class.
How often do you attend classes? Favorite class?
My goal for the Summer Challenge is 60 classes. I've been doing 4-6 classes a week this summer. The days I don't take a class, I miss yoga.
It's hard to pick a favorite class. My go to is Flow, which is a great workout (proof by my Apple Watch and calories burned) and it helps me become centered. But if I want to up my workout I'm developing a love for Yoga Up (45 minutes is my max) and HIITthe Barre. These classes have allowed me to add more cardio & weights to my workout. I attend Yin and Fire when I need more focus.
Instructor Jordan Redders: "It has been an absolute pleasure to watch Coco's strength physically and mentally throughout the past couple months. Showing up at 6am for YogaUp is hard enough, but Coco shows up every week ready to work with a smile on her face. She brings the energy and vibe that we strive for at Dragonfly. No matter how difficult a pose or cardio exercise is, I can always find Coco giving it a try and having fun with it. Congratulations Coco, keep up your awesome energy and thanks for being an amazing leader in classes!