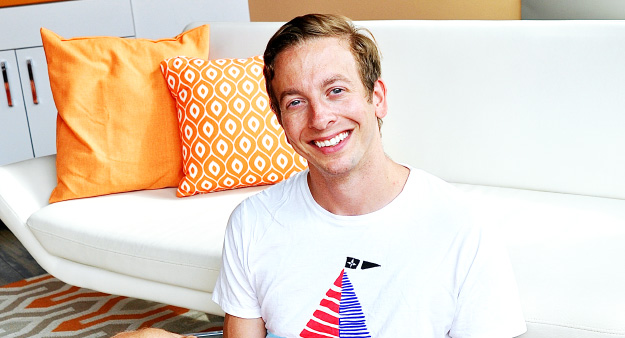 How did you get started at Dfly?
I got started at Dfly in 2016 after my girlfriend, Megan, started going to Dfly and recommended it to me. I instantly fell in love with the welcoming community and the challenge of hot yoga.
What is/was your yoga/BarreAmped experience before Dfly?
I started practicing yoga in 2010 after graduating from law school. With my newfound free time, I began running a lot and – not surprisingly – found myself getting increasingly tight. After pulling muscles a couple times, I began doing yoga once a week on campus and found a bit more flexibility.

What do you enjoy most from attending Dfly classes?
I enjoy how challenging the classes are. Whether it is using heavier weights in Autumn's Yoga Ups or getting deeper into a pose during Jessica's Aroma Yins, I always leave Dfly feeling challenged and knowing that I have improved my practice, even just a bit.
Have you experienced any changes in your total well-being since taking classes?
Absolutely. Since I began taking classes at Dfly, I have become stronger, more balanced in my fitness, and able to be more present in the moment.
How often do you attend classes? Favorite class?
I aim to attend three or four classes a week. If I can make it to Autumn's Yoga Up and Power Flow, along with Jessica's Aroma Yin, and Veranda Flow in the summer, that is a perfect week of yoga for me.
Please feel free to share any other thoughts you have about Dfly, hot yoga, or your life as we would love to know more about you.
Outside of Dfly, you can find me running around the isthmus, stand up paddle boarding on Lake Mendota, at Badger football games, or bike commuting year round. I also enjoying traveling, reading, and experimenting with new recipes in the kitchen.