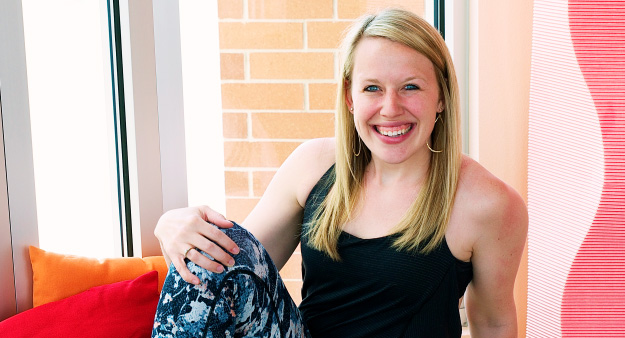 How did you get started at Dfly?
When I was training for the Madison Marathon back in 2015, I injured my foot. I pushed through the marathon, but knew that I needed to take a break from running. I knew there were many different options for working out, but was so very lost on where to start. I took a hot yoga class with one of my good friends in the Milwaukee area and absolutely loved it! I knew I had to find a hot yoga studio near me. At the time, Dragonfly was the closest one and I was sucked in immediately! I absolutely love everything about it – especially the fact that there's a class for everyone.

What is/was your yoga/barreamped experience before Dfly? / What do you enjoy most from attending Dfly classes?
Prior to joining Dragonfly, I was a big cardio junkie. I loved to run and train for several half marathons and one marathon.
What's not to like?! Honestly, my favorite part is the wide variety and that there's always a class that seems appealing to me on any given day. It doesn't matter which class I take or which instructor is leading the class, I always leave feeling challenged and refreshed. The atmosphere at Dragonfly is unmatched. Everyone is always so happy to be here!
Have you experienced any changes in your total well-being since taking classes? / How often do you attend classes? Favorite class?
I have! Getting to know my instructors and attending the same classes each week really have given me an extra piece of accountability and helps me get excited to go workout, which can sometime be a challenge. I would say, on average, I try to attend class 5 days a week. I love Cassie's Core Flow, Lindsey's BarreAmped Bootcamp, Sam's BarreAmped & Shawn's Circuit Up. (Special shout out to Nicole Vega because I absolutely LOVE her but never make it to the Sun Prairie location anymore!)
Fun Facts About Me:
My husband, Mike, and I just got married last June, and will be celebrating our one year anniversary next month. Mike and I met at the Guinness Factory in Dublin, Ireland.
I got my degree in elementary education and have taught both kindergarten and second grade but now do sales/PR for Yodelay Yogurt (You never know where life can lead you – let it!) We adopted a big derpy lab, Joe, the day after Christmas. Joe is 1.5 years old and the biggest 85lb lap dog you'll ever see.
Last week, I was lying on my mat before Cassie's Monday flow and I thought to myself, it'd be pretty cool to be Yogi of the Month sometime. The next morning I woke up to an email saying that I was chosen as Yogi of the Month. Pretty wild if you ask me. Thanks so much! :)
Instructor Lindsey Loeffler: "Emily is such a positive presence to have in class! She is so strong and always challenges herself and those around her. She has an upbeat personality and always has a smile on her face even when I'm making her do squat jumps! She is usually doing back-to-back classes with BarreAmped Cardio Boot Camp on Friday nights and Boot Camp on Saturday morning and still has that amazing form and gets that shake!"