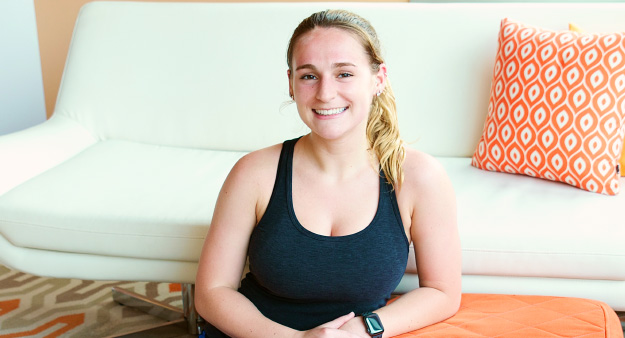 I started going to Dfly when a friend of mine brought me along to a flow class three years ago. I loved the class and started my intro month shortly after.
Before Dfly I had gone to a handful of yoga classes randomly throughout my life. I had always enjoyed them but never enough to start doing yoga regularly, until I came to Dfly.

What I love most about attending Dfly classes is the Dfly community. Everyone is so friendly and welcoming and there's always such great energy in the studio.
Since I started coming to Dfly regularly I noticed that I have become better at maintaining a positive attitude through difficult situations. I am able to stay more grounded and be more forgiving when things don't go quite right.
I attend class usually 3 times a week, maybe 4 on a good week. I love so many classes at Dfly but my favorite class is probably Erica's Wednesday night Power Up at 7:30 downtown. The class is always pretty full and there's great energy. There are people that come almost every single week so you get to see a lot of familiar faces. Plus it's a great workout!
Dfly has been my "happy place" for the past three years. It has given me such a great community of kind, supportive people. I've made so many friends and reached so many of my own personal goals through attending Dfly classes.