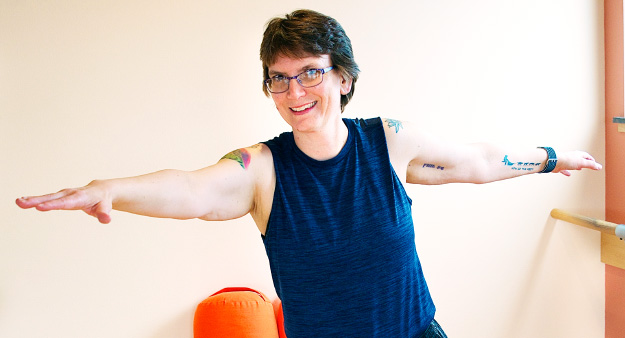 Let me begin my yoga story by saying how honored and humbled I am to be selected as yogi of the month at Dragonfly Sun Prairie. My partner Annie Rubens is the one who introduced me to yoga, many years ago. Over time my practice was sporadic, at a variety of studios, depending on where we lived at the time. When Dragonfly came to Sun Prairie I saw the ad for $20 for the first month and decided it was high time to get back on the mat! Annie joined with me, in support of my practice. We tried out a wide variety of classes and thoroughly enjoyed our time there together. When the month was over I stayed on for some time to come. However, as is so often the case for so many of us, life happened and I went back to only a sporadic practice, mostly at home. Then on May 31, 2018, after 25 years of being together, Annie passed away as a result of a bike accident while training for her second Ironman. My world was shattered and my heart was crushed. I knew that in order to even want to continue to live, I needed to let go of non-essential commitments and make space for what truly served my well-being, my purpose, and our legacy. I returned to Dragonfly and was greeted with tremendous compassion and care by Pete, who welcomed me back as if I had never missed a day. The staff of course knew about the accident, and knew without even having to ask, why I was returning to the mat.

Since that day last fall, I've had a very consistent practice. My commitment is to be on the mat 3x/week. I'd love to be there everyday, but those logistics don't quite work at this point. However, those 3 days each week are a sacred refuge for me. Fusion with Anna is one of my favorite classes because it detoxes my body like nothing else. Slow Flow on Friday nights with Bekah is also one of my favorites. Fridays used to be a special night for Annie and I, when the work of the week was over, but her weekend Ironman training had not yet begun. After she passed, I hated being home alone on Friday nights, but refused to turn to non-productive, non-healthy activities to feel better. Friday night yoga has saved me.
What I enjoy the most about the classes is how they nourish my body, mind, and spirit. What I appreciate most is the wisdom and kindness of the teachers. They know how to challenge while still being supportive. I have a neuromuscular disorder, and hot yoga is one of the very best forms of exercise for me. It's also exceedingly difficult, often maxing out my physical abilities. I tremendously appreciate how the teachers never, ever have a problem with me modifying my poses. I am supported to show up on my mat, take what the day gives me, put in my best effort, and know that simply being there is sometimes a victory in and of itself. Over time I've grown in my practice, and have been able to do more poses, more fully. I'm currently working on the balance poses and am sometimes actually able to keep one foot off the ground for a decent amount of time.
My physique has changed due to the hot yoga too. My lifetime heaviest weight was 212. When I came back to Dragonfly last fall, I was about 186. Now I am at 146. I'm finally in the healthy weight range, and that is no small thing. Everything in our life falls to me now. Raising our 4 beautiful dogs, and continuing the good work we did in the world together, falls entirely to me. I'm truly honored by that, and I know the key to fulfilling that responsibility is staying mentally, physically, and spiritually fit. Being on the mat gives me a place to accomplish that. I often dedicate my practice to someone who needs peace in their life, regardless of how that individual has treated me. People with inner peace treat themselves and others well. They do good for their communities. They take good care of their families. My wish as a yogi and as a person is that all of us find the profoundly transformational gift of inner peace.
In conclusion, I want to encourage others to be their own yogi. If you've been away, or just practiced here and there, it's alright. Come back to yoga. If life has happened and you feel broken, your mat will heal you. Come back to yoga. If you let your health slide and you've got bad habits you just can't shake, there's a place for you in the studio. Come back to yoga. In a world full of noise and difficulty, there is refuge to be found. Come back to yoga. Come home to yourself. We'll be waiting to welcome you, no questions asked.
With the deepest gratitude and respect for all of you at Dragonfly, and all the beautiful yoga teachers and studios I've been blessed with over the years, namaste!
Instructor Anna Dobbs: "Deb is strong, dedicated, and always shines bright. I would see Deb occasionally and then I started to notice her in all types of classes, flows and fusion and no matter what the class she has a smile on her face and fire in her soul. Deb is such a well-deserved yogi of the month, and I am so happy to have gotten to know a little about her. She is a wonderful dog mom with adorable pups and I am happy that she is being acknowledged for her dedication to her practice and being healthy and sharing that with those around her! See you on the mat!"