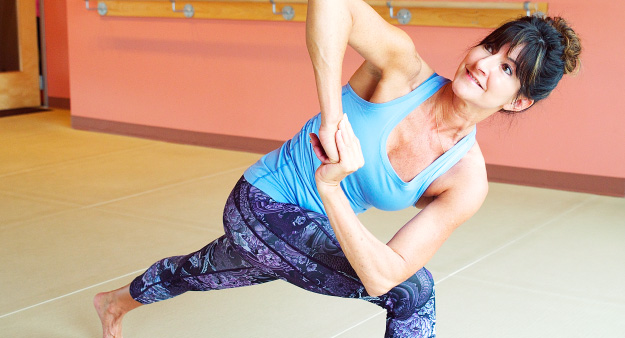 If I remember correctly, a friend told me about Dragonfly. At the time I was a member at another yoga studio in town but the idea of adding a weight/cardio class appealed to me. So I gave Yoga Up at try. Wow, I had no idea what I was getting myself into but the challenge brought me back week after week.
I had been practicing yoga for about 10 years when Dragonfly drew me in. I had a dedicated yoga practice but was looking to shake things up. Yoga was satisfying and soothing my mind and soul but I wanted to see more definition in my body. Elizabeth pushed me to add more BarreAmped classes (and weights) to my workout routine. As I write this, I have never thanked her for that! Now I will.

There are so many things I enjoy about Dragonfly…I love that there are several locations around town and that each offers a wide variety of ways to practice. The lunchtime express classes are so convenient! The teachers are kind, helpful, and challenge all of us to be the best we can be in that moment, on that day!
Yoga keeps me sane. I haven't found anything else that allows me to quiet my mind. I am grateful every day for my ability to practice!
I do my best to practice five times a week but sometimes it's a challenge. I can't say I have a favorite class…each one fulfills a different need in me.
Thank you to the wonderful Dragonfly staff for the honor to share my story. I will continue to encourage everyone I meet to give yoga a try!
Instructor Mary Leigh Flynn: "It is always great to see Maria at the studio! She brings an amazing energy to class. Maria is very strong and her form is fantastic. You can tell that when she comes to class, she is there to work and it definitely shows! Congratulations Maria and I will see you at the barre!"