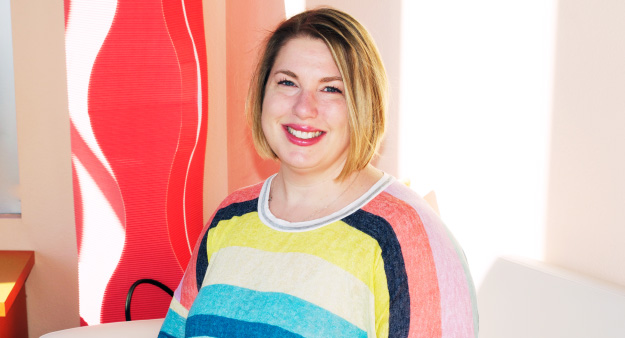 My first experience with Yoga was in 1996 at a YMCA Iyengar class. Since then I have been drawn to yoga and have tried several local studios over the years. I started coming to Dragonfly in 2013 for Yin and then discovered Flow. I love the different challenges each class offers. I can push myself as much or as little as I need each day.

In 2016, I started to develop a committed practice; I was going through a challenging spot in life. Coming into a hot room and having my own, safe, rectangle of space, allowed me time to turn everything else off. I practice yoga because it helps me be a better person. Continuing to show up on my mat and shut off my brain regularly helps me quiet the chaos of life and share calm with those around me.
I try to practice in the studio 3-4 times a week and I'm slowly developing a regular home practice for the days I can't get to the studio. I choose Dragonfly for the sense of community it provides, without the pressure to be "part of the group." I enjoy the variety of classes, class times, and locations available to work around my varied life schedule.
Instructor Suki Warda: "It's a joy to have Amy in class. She has an extremely supportive & strong practice. She shares that strength with herself and everyone she connects with. Amy is able embody a serene and steady way about her…even when things get a little bit challenging. Congratulations Amy!"