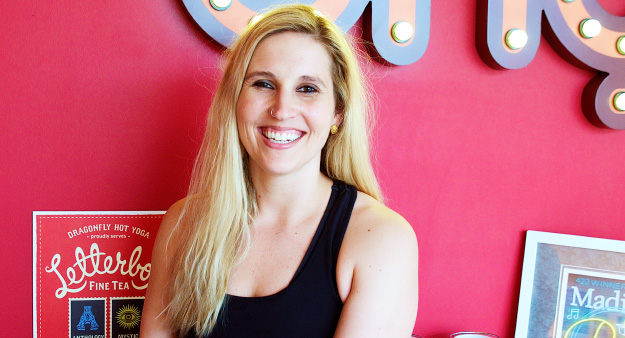 I was looking for fitness classes to add to my cardio and soccer regime. I wanted some strength training that didn't require me to join a gym. For at least a year (I think, maybe 2?) I didn't do any yoga classes at Dragonfly. Peace of mind and slower motions had never been my workout or life forte.

I had done 2 yoga classes before Dragonfly in my whole life. And did not like them. It wasn't for me. I always believed yoga wasn't for me. Dragonfly changed that. Anna started it by sucking me in with her amazingly scented cold towels after Core Flow. Natalie cemented it with her yoga arms that I coveted and feeling myself grow stronger and change and able to do things I had never been able to do before kept me coming back.
Dragonfly has amazing instructors, amazing classes and an atmosphere that makes you feel welcome. People know your name and notice when you don't come to class. The instructors and other yogis aren't just people that you see every week, they become your friends and a part of your fitness family. They want you to succeed and the studios become a place that not only do you belong to but you miss when you're not there. A gym can't do that. The weights in your basement can't do that. I love coming to Dragonfly, getting my butt kicked in Power Up or hitting a pose I've never gotten before in Core Flow and knowing I'm getting stronger in my body and my practice.
I have become much happier with my fitness goals and my every day life since practicing actively at Dragonfly. Not only have I developed an amazing friend group but I'm stronger and fitter and more confident than ever before. Dragonfly is such a part of my routine now that to miss class definitely affects my day adversely. It is something I look forward to every day.
I attend class almost every day, twice a day if I can make it work.
Dragonfly is my JAM. And so is hot yoga. I can't believe people do yoga outside of hot rooms! It has definitely become the norm in my life and I wouldn't change it for anything.