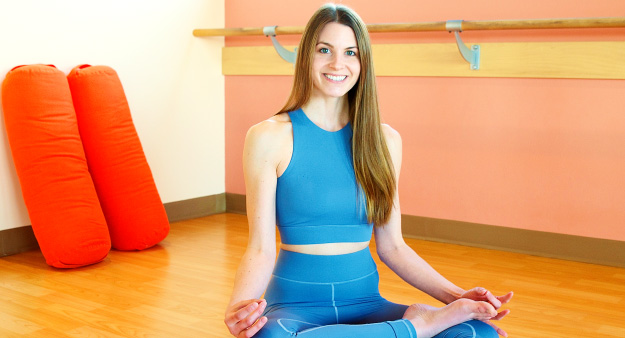 My first visit to Dragonfly was the best decision I made for myself in 2018! Previously I was getting my fitness fix at a kickboxing studio with HIIT in a circuit setting. When the studio announced it was closing, I decided to try something out of my comfort zone by attending a class at Dragonfly. I had no experience with yoga and thought I might pass out doing hot yoga! I had never been so comfortable in an unfamiliar setting and couldn't wait to come back the next day. I attended a barre class at another studio a few years ago and enjoyed it, so I thought that's what I'd sign up for most. I tried as many classes as I could my first few days and went straight for the full membership, so I could continue to enjoy them all.

I love the positive vibes at Dragonfly! All of the instructors, staff, and members are so welcoming and encouraging. From a class perspective, I enjoy the thoughtfulness and fun each of the instructors put into their flows or exercises. Each day is different than the last. I love the balance of flow, barre, and the Up classes and how each help improve my form in new ways. I also found that I love the heat, especially when aromas and cold towels are added in the mix!
I usually make it to my mat 5-7 times a week and love the challenge of doubling up on classes whenever possible. My day doesn't feel complete without Dragonfly! There are so many classes to choose from; I don't think I could pick just one favorite. I love the variety of classes and teaching styles you get with all of the instructors.
I'm coming up on my one-year anniversary at Dragonfly and I'm just as excited for class now as when I first became a member. My previous fitness regimens always seemed to hit a plateau, but with Dragonfly I found a space where I continue to see growth in myself. My muscles are more toned than ever before and I can feel my core getting stronger. I also realized I carry a lot of stress in my joints, my hips being a big offender, and yoga has really helped relax that tension. I know there's so much more to learn and I can't wait to continue my practice.
Outside of the studio, my cat is my obsession and devoted meditation partner. I found out the hard way that cats and yoga mats do not mix and your mat will become a scratch pad!
Instructor Beth Ott: "I love seeing Luann in BarreAmped class on Mondays. She consistently challenges herself with every movement. Her strength and perseverance motivates others around her, including myself. Congrats Luann, see you at the Barre!"