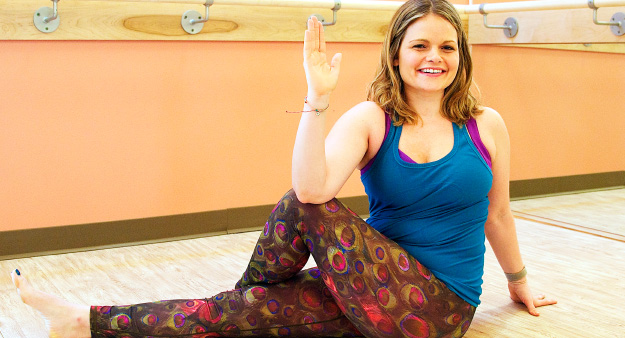 I moved to Madison from Chicago when I was 8 months pregnant and needed a way to stay active. I was so fortunate to find Dragonfly's Barre and prenatal yoga classes. Many of the prenatal work outs around are too gentle to really break a sweat. Dragonfly offered a good burn while the teachers guided me safely through the classes. Soon after I had my baby, I jumped into Yoga Up and Power Up classes. I've tried it all and I think the Yoga + Barre + Fitness offerings at Dragonfly are easily the best in town.

I've done yoga on and off for over a decade. I've mostly floated between studios until I found Dragonfly. I had never tried Barre before Dragonfly. I'm obsessed now. I make sure to get at least one BarreAmped class in each week. Seated chair kills me every time!
The people are welcoming. The studios are gorgeous. The workouts are top notch. The teachers are awesome. The schedule is full of options. There are four unique studios to enjoy. The heat is so soothing! The community is made of real people who crush their workouts but aren't crazy gym zealots (you know what I mean). Most of all – I don't feel like I have to be a certain type of person or look a certain way to be here.
I've been on a wellness journey the past year or so – trying to get strong again after having two kids and also letting go of a lot of anxiety. Dragonfly has been an essential part of my journey. At 32, I'm truly the strongest, healthiest, and most centered I've ever been. I sweat out a lot of stress on the mat, I catch my breath during flows, and I build my strength with each class. A few flows or a few burpees in the hot room are the best release for my everyday life stresses.
I've been averaging 6-8 classes a week. I love doing doubles! I'm religious about Sunday mornings with Ashley (always a great burn) and Tuesday's Circuit Up with Shawn (clears my mind). I love Wed and Thurs lunch time with Sam (she's a great coach) and Friday mornings with Kati (it's like a party at 6:45am). My new favorite class is Monday afternoon flow with Anna. Downtown classes are fun too – so much youthful energy!
It's so inspirational to watch other people work hard and whenever I see someone struggling in class, I root for them and try to send uplifting energy out into the room. It also distracts me from the burpees at hand.
Anytime a Beyoncé song comes on, I make myself work harder.
Another yogi once told me she holds her poses for an extra moment for good luck. I try to do this as well.
My whole family is yoga obsessed now… My four year old yelled out "namaste" instead of "amen" at church.
Thank you Dragonfly for empowering me! I owe my physical and mental wellbeing to the teachers and staff at DFly.
Instructor Sam Brenner: "Jackie is another yogi who is so deserving of YOM! Her hard work in and commitment to the fitness classes here at Dragonfly is unmatched, and her regular attendance at these classes (sometimes two in one day) is no small feat! Her dedication isn't exclusive to weights and cardio–she brings her upbeat personality and contagious smile to flow as well. No matter where I see Jackie on her mat, it is always a pleasure, and it always brightens my day!"