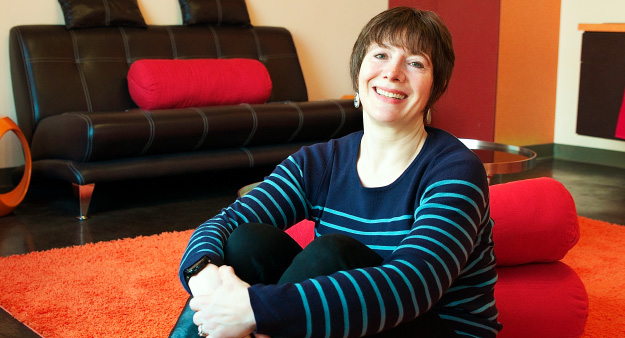 How did you get started at Dfly?
I wanted to start exercising regularly and had a membership at a 24 hour gym but rarely went there to run on the treadmill as had been the plan. I'd considered classes, but thought "I can't do classes, I hate exercising with other people" but a friend persuaded me to try it and I found out I loved it! I've been at Dfly for about three years now.
What is/was your yoga/barreamped experience before Dfly?
I'd done a few yoga classes but no BarreAmped ones; mainly Bikram yoga and I liked it but did it infrequently.

What do you enjoy most from attending Dfly classes?
The structure – being able to hand my work-out over to a competent instructor and just follow the directions, not have to think about it. I feel like it allows me to be mindful and present in a way that is so beneficial. I also love how the instructors are so good, friendly, great energy, and really know their stuff. Also, it's great that the focus is working all the muscle groups, while improving strength and cardio and flexibility.
Have you experienced any changes in your total well-being since taking classes?
I definitely feel stronger and more flexible, much stronger core, though lots of room for improvement. I really notice the difference in my mood on AMs when I didn't do a class.
How often do you attend classes? Favorite class?
I've been shooting for 5 – 6 classes a week. I love doing early AM classes before work during the work week, it really sets me up for the day to go into work with positive energy (and being positive does not come the most naturally to me so that's so helpful!).
Favorites – love Thursday AM Power Up, Fusion on Sunday AMs; also Friday Circuit Up – shout out to Dfly – let's have an early AM Circuit Up class!
Instructor Shawn Smith: "I LOVE having Dierdre in my classes. She works really hard. I mean she works REALLY hard! Every time she comes to class I know she is there for real. And we all know that bringing your best to every class is hard – sometimes we just go through the motions but Dierdre finds her best form, her lowest low, her strongest place every time and that is admirable."